Discover more from The Weekly Stuff Wordcast
Writing about Movie, Games, TV & more!
2012 Retrospective Round-Up Spectacular!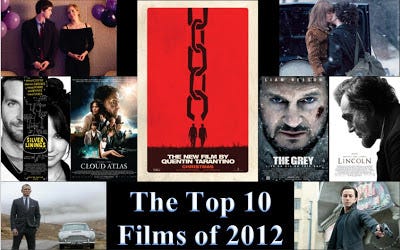 Since I have not updated this blog since October, I wanted to check back in before the year ends to give some notes on what I have been up to recently, and to remind readers who may have forgotten - or simply did not get the memo - that I am now writing for entertainment website We Got This Covered, where I serve as Associate Editor and lead Film Critic.

Speaking of We Got This Covered, I have been quite busy this month watching the final films of the year, and then summing up 2012 with a whole bunch of Top 10 lists and other retrospective articles - pieces I would like to link to in this post, both for those who have not seen them and to create a central hub for all my year-end countdowns.

The first, of course, is my Top Ten Films of 2012. As you may know, this is always one of my favorite articles to write, publish, and share every year, and as 2012 was a particularly fruitful 12 months of moviegoing, this list is a good one. With pictures, mini-analyses, guides to where you can find the films, and links to my original reviews of each titles it's a very comprehensive retrospective.

To complement this list, I also published a Best of 2012 Runners-Up list, which includes 21 more titles and fleshes the original Top 10 out to #30. It is written largely in the same style as the Top 10 list, again with pictures, descriptions, and links to all the original reviews. For a deeper look at the year in film, you will definitely want to give this list a look.

And because every action must have a reaction of equal force, there is also my annual Worst 10 Films of 2012 countdown, a bitter look at the films that made me angriest these past 12 months. Again, it includes links to the original reviews, which I highly recommend reading, as they are all some of my favorite pieces of my own writing this year.

I have also published a countdown of the Top 10 Film Scores of 2012, a very fun article highlighting one of the most important parts of filmmaking. I had a very good time putting this list together, and I hope you enjoy it - of all my year-end lists, I think this one may be the most unique.

There will be more coming in the next few days. Before Christmas, We Got This Covered will also feature my Top 10 Movie Moments of 2012, a list I will link to here when it is published.

Also, my Top 10 TV Shows of 2012 list has published exclusively at www.jonathanlack.com, right here on the blog! I did not get to write about a lot of TV this year, but I am still an avid TV viewer, and watched more than enough to compile a competitive Top 10 list. You may, in fact, be surprised to see what I left off!

In any case, I am happy to share that article with my blog readers, and look forward to posting more personal content here in the months to come. My Mad Men reviews, a big hit last Spring, will likely resume here at the blog when the show comes back, and I have some other fun plans in the work as well.

Remember to check We Got This Covered every day, not just for my movie reviews and feature articles, but for all the TV, Movie, and Video Game news and reviews published by our talented writing staff. We have also recently redesigned the site, improving it in every possible way.

And you may want to listen to my podcast, WGTC Radio, if you don't already - at 24 episodes and counting, the show is doing great! I am very proud of it!

Thanks for reading, and I will see you all again very shortly with much more content, both here and at We Got This Covered. Enjoy!