Discover more from The Weekly Stuff Wordcast
Writing about Movie, Games, TV & more!
2015 Denver Film Critics Society Awards Nominations Announced - "Mad Max," "The Revenant," "Spotlight," and more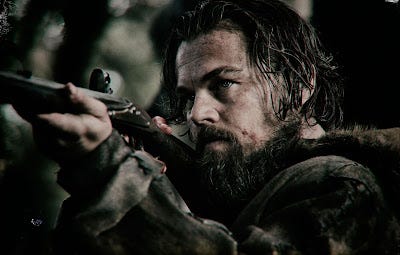 Yesterday, I shared my ballot for the nomination process in the 2015 Denver Film Critics Society Awards, and today we announced the group's final set of nominees, led by strong support for films like Room, Mad Max: Fury Road, Spotlight, and especially The Revenant, which I have yet to catch up with, but which our group absolutely flipped for. I can't wait to check it out, though there are still plenty of great nominees throughout to choose from. Compared to years past, I was fairly out of step with my colleagues here – in many of the major categories, only one or two of my personal choices got in – but most everything that got nominated was stuff I really enjoy and absolutely considered, so I think this a pretty healthy group of nominees, and I'm glad that they reflect the weird mixture of greatness was 2015, with our Best Picture group including a Pixar film, an action masterpiece, a gritty historical epic, and two very personal-scale dramas. Very interesting all around.
So continue reading after the jump to take a look at all the nominees, along with notes on where my personal votes will be going.
Best Picture:
Room
Spotlight
Mad Max: Fury Road
Inside Out
The Revenant
My vote – Mad Max: Fury Road
Best Director:
George Miller, Mad Max: Fury Road
Tom McCarthy, Spotlight
Ridley Scott, The Martian
Alejandro Gonzalez Inarritu, The Revenant
Lenny Abrahamson, Room
My vote – George Miller, Mad Max: Fury Road
Best Actor:
Matt Damon, The Martian
Bryan Cranston, Trumbo
Will Smith, Concussion
Michael Fassbender, Steve Jobs
Leonardo DiCaprio, The Revenant
My vote – Michael Fassbender, Steve Jobs
Best Actress:
Brie Larson, Room
Cate Blanchett, Carol
Charlize Theron, Mad Max: Fury Road
Saoirse Ronan, Brooklyn
Alicia Vikander, The Danish Girl
My vote – Saoirse Ronan, Brooklyn
Best Supporting Actor:
Tom Hardy, The Revenant
Mark Rylance, Bridge of Spies
Michael Shannon, 99 Homes
Idris Elba, Beasts of No Nation
Sylvester Stallone, Creed
My vote – Sylvester Stallone, Creed
Best Supporting Actress:
Alicia Vikander, Ex Machina
Kate Winslet, Steve Jobs
Elizabeth Banks, Love and Mercy
Jennifer Jason Leigh, The Hateful Eight
Rachel McAdams, Spotlight
My vote – Alicia Vikander, Ex Machina
Best Animated Film:
Inside Out
Anomalisa
The Peanuts Movie
Shaun the Sheep Movie
The Good Dinosaur
My vote – Inside Out
Best Science Fiction/Horror Film:
Ex Machina
The Martian
It Follows
Star Wars: The Force Awakens
Mad Max: Fury Road
My vote – Star Wars: The Force Awakens
Best Comedy:
Joy
What We Do in the Shadows
The Big Short
Trainwreck
Inside Out
My vote – What We Do in the Shadows
Best Original Screenplay:
Pete Docter, Josh Cooley and Meg LeFauve, Inside Out
Alex Garland, Ex Machina
Tom McCarthy, Josh Singer, Spotlight
Quentin Tarantino, The Hateful Eight
Amy Schumer, Trainwreck
My vote - Quentin Tarantino, The Hateful Eight
Best Adapted Screenplay:
Emma Donoghue, Room
Nick Hornby, Brooklyn
Adam McKay, Charles Randolph, The Big Short
Aaron Sorkin, Steve Jobs
Drew Goddard, The Martian
My vote – Aaron Sorkin, Steve Jobs
Best Documentary:
Listen to Me Marlon
Cartel Land
Amy
Going Clear: Scientology and the Prison of Belief
The Look of Silence
My vote – The Look of Silence
Best Visual Effects:
Star Wars: The Force Awakens
The Walk
Mad Max: Fury Road
Ex Machina
The Martian
My vote – The Walk
Best Original Song:
Wiz Khalifa, "See You Again," Furious 7
Sam Smith, "Writing's on the Wall," Spectre
Lady Gaga, "Til It Happens to You," The Hunting Ground
Tim Wheeler, "Feels Like Summer," Shaun the Sheep Movie
Sumi Jo, "Simple Song #3," Youth
My vote - Wiz Khalifa, "See You Again," Furious 7
Best Score:
Ennio Morricone, The Hateful Eight
John Williams, Star Wars: The Force Awakens
Bryce Dessner, Carsten Nicolai and Ryuichi Sakamoto, The Revenant
Howard Shore, Spotlight
Tom Holkenborg AKA Junkie XL, Mad Max: Fury Road
My vote - John Williams, Star Wars: The Force Awakens 
Best Foreign Language Film:
Son of Saul
The Fencer
The Assassin
Taxi
A Girl Walks Home Alone at Night
Visit the Denver Film Critics Society online at www.denverfilmcritics.org