Discover more from The Weekly Stuff Wordcast
Writing about Movie, Games, TV & more!
25 Reviews of Christmas #24 - Christmas Eve arrives with a Yippee-ki-Yay - it's "Die Hard," the most festive Christmas classic of them all!
Happy Christmas Eve, everybody!  To celebrate this joyous day, I've chosen a film I think represents the spirit of the Holiday season better than most, not only one of the best Christmas movies, but one of my favorite movies, period…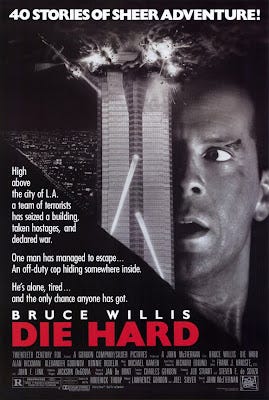 Hell.  Yeah.  You read that right.  Yippee-ki-yay, father Christmas.  Yippee.  Ki.  Yay. 
Since it's Christmas Eve, I'll keep things brief today – "Die Hard," more than any other film I've reviewed this Holiday season, speaks for itself, after all…Review after the jump….
When I looked at the list of Christmas films I'd assembled to review for the 25 Reviews of Christmas, I gave special thought to which movie would mark Christmas Eve.  Depending on your own personal traditions, it may well be an even more important day than Christmas itself.  So I asked myself…what is the best movie to watch at Christmas? 
The answer was obvious.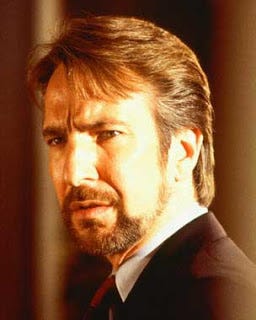 Though I'll admit, it's sort of a 'trick-question' scenario; "Die Hard" is the best movie to watch at any given time of the year, so ergo, it's the best movie to watch at the Holidays.  Indeed, with its festive atmosphere, wintry aesthetic, brilliant use of the color red (both in lighting and in blood), and delightful seasonal music, "Die Hard" plays best during the Christmas season.  Laugh if you will, but if you've never sat down to watch "Die Hard" on a snowy winter's eve with a Christmas tree next to the TV and a plate of festive cookies in your lap, you haven't really lived. 
You may scoff and say that "Die Hard" has nothing to do with Christmas, which is a very silly thing to say.  True, the explosions, gunfights, and general mayhem may not be what traditionally come to mind when we think of the Holidays (and if that is what comes to mind, I am sincerely sorry for you and recommend you seek therapy posthaste), but that doesn't mean it's not an all-around perfect Christmas movie. 
In fact, there might just be a potent bit of Holiday-flavored commentary lying beneath the surface.  You know Fox News' ridiculous "War On Christmas" feature stories that always run this time of year?  Maybe "Die Hard" is an expression of those ideas: notice, in the first scenes, that Holly McClane's party in Nakatomi Plaza is specifically billed as a Christmas party, not the more politically correct Holiday party.  Therefore, it stands to reason that the attack by Hans Gruber and his men on this party is symbolic of how fierce the battle for political correctness has become, especially at this time of the year.  In standing up to the terrorists, John McClane is defending the very sanctity of Christmas itself; he's a disciple of the Lord enduring unbelievable bodily harm to protect his chosen Holiday.
Actually, that explanation makes me hate "Die Hard."   
So never mind.  Let's just say it's a kick-ass action flick that happens to have a lot of Christmas in it.  In my book, that's good enough to recommend it as essential Christmas Eve viewing.