Discover more from The Weekly Stuff Wordcast
Writing about Movie, Games, TV & more!
25 Reviews of Christmas #3 - My Top Ten Favorite Christmas TV Episodes!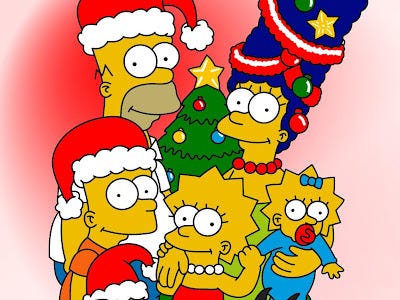 You'll see "The Simpsons" and more on this epic Christmas countdown!
Today on the 25 Reviews of Christmas, I'm going to take a look back at some great Christmas-themed TV episodes with a (hastily-assembled) top-ten list!  Yay!  It's My Top Ten Favorite Christmas TV Episodes, though I should probably amend that to "Comedy" episodes, since looking at the list, most of these are comedies.  And two shows, in particular, dominate the list; though I would normally have a "one-episode-per-show" rule, these two shows have produced such fantastic Christmas episodes I thought it would be unfair to narrow it down to just one.  If you haven't checked out these episodes, they are all fantastic, and now is the best time of year to watch them!  Remember to visit this page at any time for a collection of all 25 Reviews of Christmas articles. 
Enjoy! Top Ten List After the Jump…
10. "Amends" from Buffy the Vampire Slayer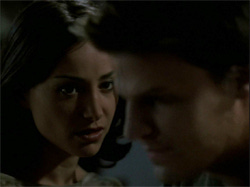 Not exactly a Christmas episode, per se, but it's the closest we're ever going to get from Joss Whedon, and it's a damn good hour to boot.  This episode was from the show's third season, one of the all-time great TV seasons if you ask me, and the year had only one notable problem: the writers didn't quite know what to do with Angel, the vampire-with-a-soul who, in the previous season, had lost his soul and gone on a rampage.  In "Amends," they figured out exactly what to do with the character, devoting one fantastic hour to his many inner demons as a mysterious evil power forces him to confront the darkness in his past.  David Boreanaz was never better on "Buffy," and this hour, more than any other, suggested he could carry his own show (which, of course, he would go on to do); the story also gave the title character some great material, and the climactic scene between Buffy and Angel isn't just the pair's finest acting duet, but one of the great moments in the history of the series.  Again, not exactly a Christmas episode, but like "A Christmas Carol" or "It's A Wonderful Life," the hour makes good use of the reflective aspects of Christmas, the ways in which a day reserved for celebrating may make some of us reevaluate what parts in our life haven't been so celebratory. 
9. "Christmas Scandal" from Parks and Recreation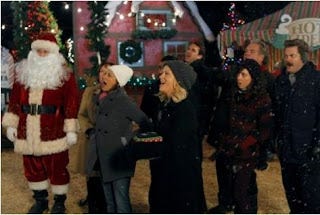 If you aren't watching NBC's "Parks and Recreation," you should be.  I just want to make that abundantly clear.  It is TV's finest comedy, and though they've only done the one Christmas episode, I think it handily trumps all of the Holiday half-hours "The Office" has ever done.  In true "Parks" fashion, however, "Christmas Scandal" is far from just a cut-and-dry bit of festivity.  It has the expected Holiday beats, such as the Parks department putting on a riotously funny Christmas sketch show, Leslie Knope creating the perfect Christmas village, etc.  But it quickly goes in some unexpected directions as a sleazy, disgraced Councilman pulls Leslie into the middle of his sex scandal.  It's a blistering political satire (and one that sadly rings very, very true), but the heart of the episode comes from Leslie's mature, adult break-up with the kind, caring cop Dave (played wonderfully by Louis C.K.).  The focus isn't so much on Christmas as it is on taking a snapshot of these peoples' (crazy) lives at the Holidays, but "Parks" is the best at what it does and "Christmas Scandal" is no exception.
8. "How Lily Stole Christmas" from How I Met Your Mother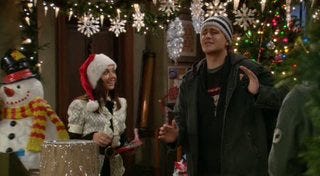 Since HIMYM has had a sharp uptick in ratings this year, I'm guessing some of you aren't familiar with the show's early years.  Allow me to enlighten you.  Before the show become a total train-wreck around the fifth-season, it really was one of the best sitcoms on TV; despite the titular mystery that drives the narrative, the series would, at its best, forget about major arcs and just tell good stories with its fantastic cast, and the season two installment "How Lily Stole Christmas" is one of the best examples of HIMYM at its most relaxed and, therefore, strongest.  The episode pays homage to plenty of classic sitcom Christmas tropes (Marshall has a gloriously funny bit where he helps a mailman deliver all the Christmas packages on his way home), but mostly keeps them in the background.  The main story is all about resolving some bitter, repressed tension between Ted and Lily from earlier in the season (revolving around a terrible swear word humorously censored here as "Grinch"), and the results are both funny and, ultimately, heartwarming.  Allowing the characters to simply bounce off each other for twenty-two minutes has always been the show's strong-suit, and doing it at Christmas makes for an episode I've enjoyed revisiting every December. 
7. "Mr. Hankey's Christmas Classics" from South Park
You're going to see a lot of "South Park" on this list.  It took a lot of restraint for me not to put on more, because the show has had a ton of great Christmas episodes.  "Mr. Hankey's Christmas Classics" is one of the earliest, a variety show hosted by the…er…adorable?....Mr. Hankey, where "South Park" characters cover many classic Christmas tunes and come up with a few of their own.  Every skit is fabulous, but I have a special fondness for "Christmastime in Hell" and the expertly written ensemble song "Dreidel Dreidel Driedel."  An album was released in conjunction with the episode, and I listen to it at all times of the year, but during December, nothing will cut it but the original, fully-animated episode. 
6. "Simpsons Roasting on an Open Fire" from The Simpsons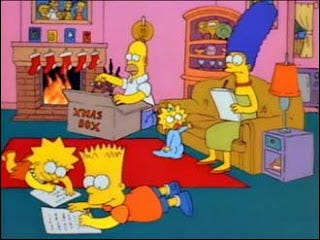 The one that started it all.  This was the first episode of "The Simpsons" and it's still one of my favorites.  Christmas has always been important to the show, and when you look at all the ways this episode helped define the Simpsons formula, it's no surprise.  As in most episodes, it starts with everything going wrong for our favorite family; Homer doesn't get his Christmas bonus, Marge uses all her money when Bart gets a tattoo that needs removal, and Homer struggles to find ways to pay for Christmas.  As in the best "Simpsons" stories, the premise says something meaningful about these characters, especially Homer: as we see here, he will never stop trying to please his family, and though his tireless effort doesn't pay off, in the end, that hard work is all that matters to his family, and that love makes their measly little Christmas worth something.  People like to lambast early Simpsons episodes, and while they were rough, I think it's impossible to watch "Simpsons Roasting on an Open Fire" and ignore all the seeds of the masterpiece this show would become.  It's fitting that it's set at Christmas, a time filled with all the different kinds of emotions and tones the series would go on to master; specifically, Christmas is a great way to analyze the family dynamics and who these characters are, and for a first episode, "Open Fire" sets a pretty spectacular precedent. 
5. "It's Christmas in Canada" from South Park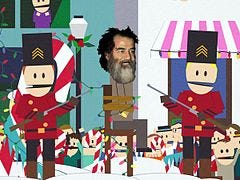 "It's Christmas in Canada" is probably the closest "South Park" has ever come to displaying genuine pathos and emotion, as Kyle sets out on a journey across Canada to save his little brother, Ike.  That part is absolutely heartwarming.  The rest is sidesplittingly hilarious.  Utilizing a "Wizard of Oz" structure, we get Canadian equivalents to everything in Oz ("Follow the only road!").  Cartman, intent on returning by Christmas, is at his most selfish and, therefore, funniest, and there's a terrific guest appearance by the underused Mr. Kim.  Then, of course, there's the twist ending, where "South Park" rapidly responded to Suddam Hussein's capture in riotously funny fashion.  Every last moment of this episode is classic, and when it comes to Christmas episodes, it's hard to believe Trey Parker and Matt Stone ever topped it.  But they did.  Oh boy they did…
4. "Woodland Critter Christmas" from South Park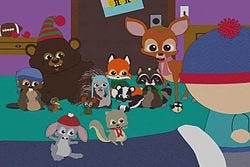 We finish the "South Park" block of the list with "Woodland Critter Christmas," by far the strangest, most disturbing, offensive, and non-stop hilarious Christmas special ever put on TV.  It has nothing substantive to say about, well, anything, let alone Christmas, but it does have cute woodland critters engaging in a blood orgy, mountain lions performing abortions, and horrific displays of violence all wrapped up in a delightful rhyming storybook style.  It's every great Christmas TV special rolled into one wonderfully depraved half-hour, and it is almost painfully funny.  This is the last Christmas episode "South Park" has done, and I think it's safe to say they went out on top. 
3. "Chuck Versus Santa Claus" from Chuck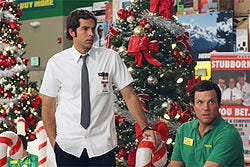 Thinking about a fantastic episode like "Chuck Versus Santa Claus" really makes me sad to think that the show will be ending next month.  But "Chuck" had a good run, and during the show's creative peak during season 2, they produced this phenomenal Christmas episode that defined everything this series does so well.  A gang of thugs holds everyone in the Buy More hostage, and for much of the hour, the results are flat-out hilarious.  Chuck accidentally gets Casey shot in the foot, Morgan and Captain Awesome devise a funny escape plan, and Reginald VelJohnson reprises his role as Sergeant Al Powell from "Die Hard."  How could one not fall in love with this episode?  It's the second-half, though, where things raise to masterpiece levels; the story takes a dark turn, and as the characters analyze their lives and relationships, a choice Sarah makes to protect Chuck winds up being a pivotal point not just for the season, but in their personal dynamic.  "Chuck Versus Santa Claus" is more than just a brilliant show at its very best; it's a Christmas classic in its own right, and I know I'll be revisiting it sometime soon. 
2. "Marge Be Not Proud" from The Simpsons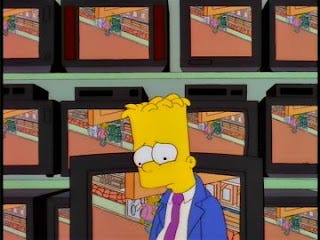 One of the most emotionally honest and devastating half-hours "The Simpsons" ever produced, "Marge Be Not Proud" deals with the ramifications of Bart shoplifting from the local Try-N-Save.  Marge, so happy to have her family together and joyful for Christmas, finds her world splintered; confronted with the fact that her little boy is no longer innocent, she doesn't quite know what to do with herself, and begins ignoring Bart.  He, meanwhile, is lost in a sea of confusion without his mother's love at Christmas.  The middle portion of this episode goes right for the heart and it doesn't pull any punches; when it hits, it hits hard, and I think it has some very poignant things to say about the nature of family dynamics.  The finale, in which Bart finds the perfect way to make everything right, is an unapologetic tearjerker, and it gets me every time.  This is possibly the best episode of "The Simpsons," and unquestionably a Christmas classic. 
1. "Abed's Uncontrollable Christmas" from Community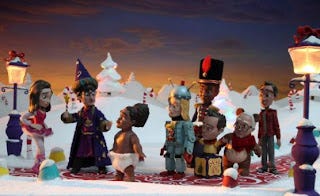 First off – if you aren't watching "Community," you need to!!!  It is the most original, daring, and inventive comedy on TV, not to mention one of the best ("Modern Family" can bite me).  "Abed's Uncontrollable Christmas" is both a showcase for all the many things "Community" does so well and the absolute best Christmas TV episode I have ever seen.  It's entirely stop-motion animated, like the Rankin Bass cartoons of old, and though it has a cheerful aesthetic, bouncy, festive score, and some big musical numbers, it's actually one of the show's darkest episodes. 
The story is stop-motion because the group's resident super-geek and pop-culture aficionado, Abed, has suffered a total break from reality after enduring an unknown psychological trauma.  As his friends try counseling him, Abed takes them on an imaginary journey through a Christmas wonderland, one fraught with metaphors about the cast.  I wouldn't dare spoil what Abed's trauma was or why it sends him into a stop-motion delusion, but suffice it to say that at the conclusion, the episode absolutely wrecked me.  And it's not just the ending, either – Abed's entire journey is a series of hard, completely organic emotional punches, and in 22 short minutes, we come to learn a lot about each member of the study group.  It's also a very funny episode, but the laughs aren't the focus.  This is a story about the characters, their problems, and ultimately, what they all mean to one another, and the fact that it takes place in TV's most recognizable Christmas landscape, a stop-motion wonderland, is just icing on the cake.  With impeccable production values, great music, and tons and tons of heart, "Abed's Uncontrollable Christmas" is easily the best Christmas episode I've ever seen. 
What are your favorite Christmas TV episodes?  Sound off in the comments, and tell me whether or not you agree with my choices!