Discover more from The Weekly Stuff Wordcast
Writing about Movie, Games, TV & more!
Announcing "One Season Wonders," a new weekly Wednesday TV analysis feature – beginning with "Freaks and Geeks" reviews starting January 11th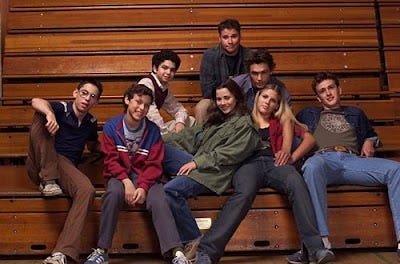 As I explained in my "Welcome to 2012" post last week, one of my goals for the website this year is to make sure there's a steady stream of content coming, something that is a bit difficult to achieve in these early months of the year that are generally light on big movie releases.  Back on YourHub, I used to keep content coming through TV blogging, reviewing episodes of my favorite TV shows as they aired, but that's become increasingly difficult in College, where a lack of cable has left me watching shows a day or two after they air on Hulu (that's why, if you were wondering, I've been unable to review this final season of Chuck – I'm usually out of the house on a Friday night).  I love reviewing TV, because it allows me to go deeper with my analysis than a film review would. 
But I've had what I think to be a good idea to get around this TV problem – why not look back to the past and review some beloved shows with brief runs on a week-to-week basis?  That's the plan, anyway, so starting this Wednesday, January 10th, I'm kicking off a new One-Season Wonder column that will post each and every Wednesday, and the show I'm starting with is probably the best of all cancelled TV series….
…Freaks and Geeks!  If you've never heard of this show, you should buy the DVD set right away (it's reasonably priced, it's awesome, and it's packed with extras, so blind-buy away!).  Hailed by many as one of the greatest shows in the history of the TV medium, it aired on NBC in the 1999-2000 season, and was created by Paul Feig – director of "Bridesmaids" – and produced by Judd Apatow, the most successful producer of comedy films in the 2000s.  This was where they got their start, alongside now-big-name actors like James Franco, Jason Segel, Seth Rogen, and more.  Freaks and Geeks is a chronicle of two groups of social outcasts at a Midwestern high school in 1980, and though often described as a comedy, its hard-hitting, brutally honest depiction of adolescence is what makes it a classic.
But if you're a fan, you already know that.  After years of hearing good things about this show, I finally got the DVD set, and after watching a few episodes, I see what the hype was about.  So I'm going to give it my usual in-depth, episode-by-episode treatment as our inaugural One-Season Wonder.  There are eighteen episodes, so these Freaks and Geeks reviews will run for eighteen weeks, one review/analysis posting each Wednesday, beginning January 11th.  Continue reading after the jump…
Once that's done, we'll move onto our next One-Season Wonder, which will begin in late May.  I have that show already picked out too.  It needs no introduction – it's Joss Whedon's Firefly.  That will take us into mid-August, and after that, there are many different directions we could go with the feature, but I have a number of other classics, some I've seen and some I haven't, on my shortlist.  And you can fully expect me to break the One-Season rule by this time next year, because there are plenty of two-season wonders out there too, or multi-season shows that had one wondrous season.  I'll make it work somehow.
Anyway, I'm very excited to share my thoughts on Freaks and Geeks with you.  Looking at the first few reviews I've completed, I think it's some of the best writing I've ever done, because few shows have ever given me this much to discuss.  As with all my TV reviews, it's expected that the reader has seen the episode, just as a literary analysis would delve into the book without summarizing every salient plot point.  If you haven't seen the show, the episodes are easy to find on DVD, though they aren't available for online purchase; if you see the show in the future, these reviews will be here waiting for you when you've caught up!
The fun begins this Wednesday, and it should keep some interesting content coming mid-week year-round, even during dry patches at the Cineplex.  Enjoy!