Discover more from The Weekly Stuff Wordcast
Writing about Movie, Games, TV & more!
"Birdman," "Inherent Vice," "Under the Skin" score big in Denver Film Critics Society's 2014 Nominations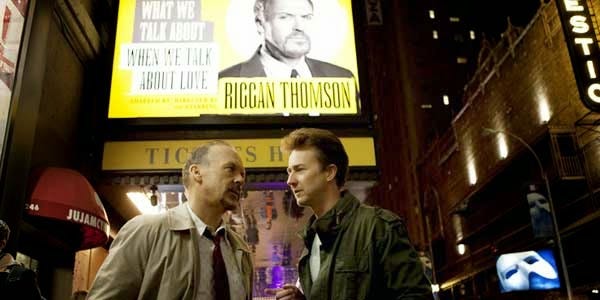 The Denver Film Critics Society, of which I am a member, announced its nominations for our annual awards this afternoon, and I'm excited to share them with you. Voting in these awards is an exciting, intriguing process for me. Over the last few days, I shared all of my 'Dream' nominations in each of the categories the Academy Awards recognizes, and I like that my participation in the DFCS means I can apply those thoughts beyond the realms of the hypothetical. Awards are of course silly and arbitrary on some level, but I like being able to recognize different elements of film craft this way, and it's especially interesting, when voting with the rest of the DFCS, to see what stuck out to my peers over the past 12 months.
I always find breaking down our nominations to be a fascinating exercise. I'll admit…when I got the e-mail earlier today announcing what we had nominated, I had a pretty broad smile on my face, because many more of my 'pet' nominees showed up here than I could have expected. A big showing for Inherent Vice (including the fantastic Katherine Waterston), recognition for Under the Skin in every category where it belongs, some love for foreign titles The Tale of Princess Kaguya and Two Days One Night…those are all the kinds of nominees I know I'm personally passionate about, but didn't necessarily expect the group as a whole to be enthusiastic about. But here they are, and overall, I think it's a really solid set of nominees. There are oddities to be found, of course – I haven't seen another critic's group embrace American Sniper this wholeheartedly – but I like the overall mix of titles and nominees, and I'm interested to see which films come out on top.
The Denver Film Critics Society will announce our award winners on January 12th. For now, take a look below at the full list of nominees, along with some of my own musings on various categories (including which pick I intend to vote for in the final round).
See all the nominees after the jump…
 Best Picture
Birdman
Boyhood
Whiplash
Inherent Vice
American Sniper
Three of these – Birdman, Whiplash, and Inherent Vice – were on my ballot, so I'm perfectly happy here. I have my problems with Boyhood, but I don't begrudge anyone their love of it. The oddity is certainly American Sniper. I haven't seen it yet – this sort of thing really isn't my cup of tea – but even the most glowing reviews don't seem to indicate 'year-end best' status. But from chatter within the group, I know it's got a pretty broad base of support among Denver critics. If I have the time, I'll try to dig my screener out and give it a watch before our final voting period.
My vote: Inherent Vice
Best Director
Richard Linklater, Boyhood
Alejandro Gonzalez Inarritu, Birdman
Christopher Nolan, Interstellar
Paul Thomas Anderson, Inherent Vice
Clint Eastwood, American Sniper
Pretty cut and dry in comparison with the Best Picture set, though I think it's interesting we swapped out Damien Chazelle for Christopher Nolan. Interstellar got more support in several categories than I necessarily anticipated, in fact (it didn't get any votes from me except Score, where it failed to make the group's nominee list).
My vote: Paul Thomas Anderson, Inherent Vice
Best Actor
Michael Keaton, Birdman
Eddie Redmayne, The Theory of Everything
Jake Gyllenhaal, Nightcrawler
Ralph Fiennes, The Grand Budapest Hotel
Bradley Cooper, American Sniper
Pretty standard set of names here, though I'm very glad to see Ralph Fiennes wasn't forgotten. I hope the same holds true at the Oscars.
Best Actress
Felicity Jones, The Theory of Everything
Reese Witherspoon, Wild
Rosamund Pike, Gone Girl
Scarlett Johansson, Under the Skin
Marion Cotillard, Two Days, One Night
That's almost entirely my exact nomination ballot, minus Rosamund Pike (I had Keira Knightley in Laggies there, which I recognize was an entirely futile attempt). I like Pike's work in Gone Girl just fine, though my overall hatred of that film (and the obscene misogyny of her character in particular) holds me back from praising the work too much. I'm just glad to see Johansson and Cotillard here – I was worried they might get lost in the shuffle, as they have for many groups.
My vote: Scarlett Johansson, Under the Skin
Best Supporting Actor
Edward Norton, Birdman
Ethan Hawke, Boyhood
J.K. Simmons, Whiplash
Mark Ruffalo, Foxcatcher
Josh Brolin, Inherent Vice
Hey, that's my ballot exactly! For more thoughts, I direct you here.
My vote: J.K. Simmons, Whiplash
Best Supporting Actress
Patricia Arquette, Boyhood
Emma Stone, Birdman
Rene Russo, Nightcrawler
Sienna Miller, American Sniper
Katherine Waterston, Inherent Vice
Three of my five picks made the cut here, and I'm happy to see them. Arquette was also on the list I published with the Dream Oscars post, but assuming she would make our cut either way, I swapped her for Tilda Swinton in Snowpiercer as another hail Mary play, but to no avail. My ballot also had Jessica Chastain in A Most Violent Year, which it strikes me didn't get a single nomination from our group. Huh. It was one of the later screeners to arrive, and it seems American Sniper played better anyway. The important thing here is that Katherine Waterston got her nomination, which makes me kind of giddy.
My vote: Katherine Waterston, Inherent Vice
Best Animated Film
The Lego Movie
Big Hero 6
How To Train Your Dragon 2
The Boxtrolls
The Tale of Princess Kaguya
I was wondering if anyone else in our group had even seen Kaguya, given how briefly it ran in Denver, but I assume others must have checked it out if it made our final list. We'll see if that's enough to push it to a win, and if not, I'm really curious about the what the champion could be.
My vote: The Tale of Princess Kaguya
Best Science Fiction/Horror Film
Dawn of the Planet of the Apes
The Babadook
Interstellar
Under the Skin
Edge of Tomorrow
I think this is an interesting category for us to have, and I like that apart from Under the Skin, it mostly doesn't overlap with anything else this year. It's good to be able to give a film like Edge of Tomorrow a nod, you know?
My vote: Under the Skin
Best Comedy
22 Jump Street
Guardians of the Galaxy
Neighbors
Top 5
The Grand Budapest Hotel
Guardians of the Galaxy is a bit of a weird choice here – I nominated it in the Sci-Fi category, as I think that's a better genre classification for it – and I don't think of The Grand Budapest Hotel as a pure comedy, but this is obviously a nice, strong category overall. I'm happy to see Jump Street, Neighbors, and especially Top 5 show up here, though my bid to get Muppets Most Wanted some attention, here and in other categories, ultimately fell flat. I'm still not sure what I'm going to vote for here. The Grand Budapest Hotel is the best of these films, but it's just so different from the others…I think Top 5 is the year's best all-around 'comedy,' if we're viewing things that way. Grand Budapest has no genre to me other than 'Wes Anderson.' Hmm. It's a dilemma.
Best Original Screenplay
Alejandro Gonzalez Inarritu, Nicolas Giacobone, Alexander Dinelaris, Armando Bo, Birdman
Richard Linklater, Boyhood
Wes Anderson, Hugo Guiness, The Grand Budapest Hotel
Damien Chazelle, Whiplash
Jeremy Saulnier, Blue Ruin
All logical choices. The Blue Ruin nod is interesting to me. I have yet to catch up with that film, though I've only heard great things.
My vote: Birdman
Best Adapted Screenplay
Gillian Flynn, Gone Girl
Paul Thomas Anderson, Inherent Vice
Anthony McCarten, The Theory of Everything
Nick Hornby, Wild
Jason Hall, American Sniper
Most of what I despise about Gone Girl comes from the script – which I feel is overstuffed and poorly structured on a basic cinematic level, before getting into all the other problems I have with the film – so yeah, that's really the only nomination I take umbrage with. The lack of Muppets again saddens me. Inherent Vice is heads and shoulders above everything else in this category – though looking through all these nominations again, I'm wondering if that across-the-board support for American Sniper manifests itself in some actual wins, here and in other places.
My vote: Paul Thomas Anderson, Inherent Vice
Best Documentary
Life Itself
The Overnighters
Citizenfour
Keep on Keepin' On
Jodorowsky's Dune
My vote: Life Itself
Best Cinematography
Emmanuel Lubezki, Birdman
Benoit Delhomme, The Theory of Everything
Hoyte Van Hoytema, Interstellar
Daniel Landin, Under the Skin
Tom Stern, American Sniper
This is our first year handing out a Cinematography award, which was actually added at my suggestion. It's my favorite of all these categories to consider, honestly, and I'm glad we've finally brought this essential piece of film craft into the fold. Obvious standout Birdman made it in, thankfully, and I'm overjoyed to see Under the Skin rightfully make its presence known. Interstellar and The Theory of Everything are both expertly photographed films, even if I think there are many more deserving titles (I'll go ahead and pour one out for our snubbing of Robert Elswit right now), and this is probably the oddest place American Sniper showed up. But hey, we'll get to reward Birdman where it matters most, and at the end of the day, that's probably the most important thing here.
My vote: Emmanuel Lubezki, Birdman
Best Original Song
"Everything Is Awesome," The LEGO Movie
"Lost Stars," Begin Again
"The Last Goodbye," The Hobbit: The Battle of the Five Armies
"Glory," Selma
"Ordinary Human," The Giver
Sigh. No love for Muppets Most Wanted here, which is a real bummer – take a listen to that soundtrack and tell me there were any better Original Songs this year (or any that made more of an impact on the film in question). Oh well. After three years of trying, I'm finally happy to see one of the Hobbit end credits songs nominated (this is the best of them), and while that Giver nod seems pretty far out of left field, the rest of these are great choices.
My vote: "The Last Goodbye," The Hobbit
Best Score
The Theory of Everything
Birdman
The Grand Budapest Hotel
Under the Skin
Inherent Vice
A fine set of scores, all of which would make my Top 10 for the year (even if they didn't necessarily make my Top 5). I'll say it again, though: If you've forgotten about it, take another look at John Powell's How to Train Your Dragon 2 score. It really is one of the greatest achievements in film scoring Hollywood has had in years, and worth a level of recognition it sadly hasn't inspired from nearly all award-granting groups.
My Vote: Under the Skin
Best Foreign Language Film
The Tale of the Princess Kaguya
Ida
Two Days, One Night
Force Majeure
Winter Sleep
My Vote: The Tale of Princess Kaguya
And that's it! Sound off in the comments with your take on the nominations, and come back January 12th for my thoughts on the winners. For more of my commentary on all these categories and more, take a look at my Dream Academy Award Nominations post, linked to below.