Discover more from The Weekly Stuff Wordcast
Writing about Movie, Games, TV & more!
Like I said in my first post on Monday, this newsletter is very much an experiment, and that means I want to chase new ideas as they come. As of now, the plan has been to have one big article every Wednesday, plus a note about the week's podcast every Monday. For Fridays, I'm going to add another small piece here, just recapping some of the things I've been watching, reading, or playing, and then opening the floor to all of you to hear if there's anything you've been enjoying. 
This idea was inspired by two things: First, when I teach discussion sections at the University, I always open my classes by asking my students what they've been watching. I feel it's good to gauge what kinds of media diets are out there among those I'm instructing, and I always get some cool, unexpected answers. It's a good way to touch base every week, and creates a rhythm to the start of class I've really come to enjoy. 
Second, when I went to Japan for three weeks over the holiday break, I wound up keeping a notebook with details of everything my brother and I did over the course of the trip, day by day, with train tickets and pictures and stickers and various memorabilia taped inside like an amateur scrapbook. I'd never really done anything like it before, but it was grounded the experience in a really tangible way, and left me with probably the single best (and cheapest) souvenir I have from my time in the country. You can see a bunch of what was in that journal in our video episode of The Weekly Stuff Podcast from a few weeks back, where I recapped the trip, if you're interested: 
I bought a few extra notebooks before I left Japan, not sure what I was going to do with them – I'm not someone who generally takes notes by hand – but one idea I had was to start writing down everything I watched, read, and played. I don't think I have it in me to do a full diary of my daily life experiences, but a media journal seemed like a fun idea, both as a practical resource – when it comes to doing Top 10 lists or other year-end podcast discussions, keeping a running record makes things a lot easier – and as I was to put down brief reflections on everything I take in. 
So this new Friday issue of the newsletter is basically going to be a typed-up version of that: My media diary for the week, with a list of everything I've been watching or playing, for classes or on my own time, with some brief comments on each one. In my notebook, I write down everything date by date, but for ease of organization I'm going to put down everything here in alphabetical order. And at the end, I'm going to highlight one thing I watched in the last seven days as my "Pick of the Week" – the single piece of media I'd most strongly recommend to everyone reading. 
So, without further ado, let's do just that: Here's my Media Diary for the last week, from February 21st to February 28th: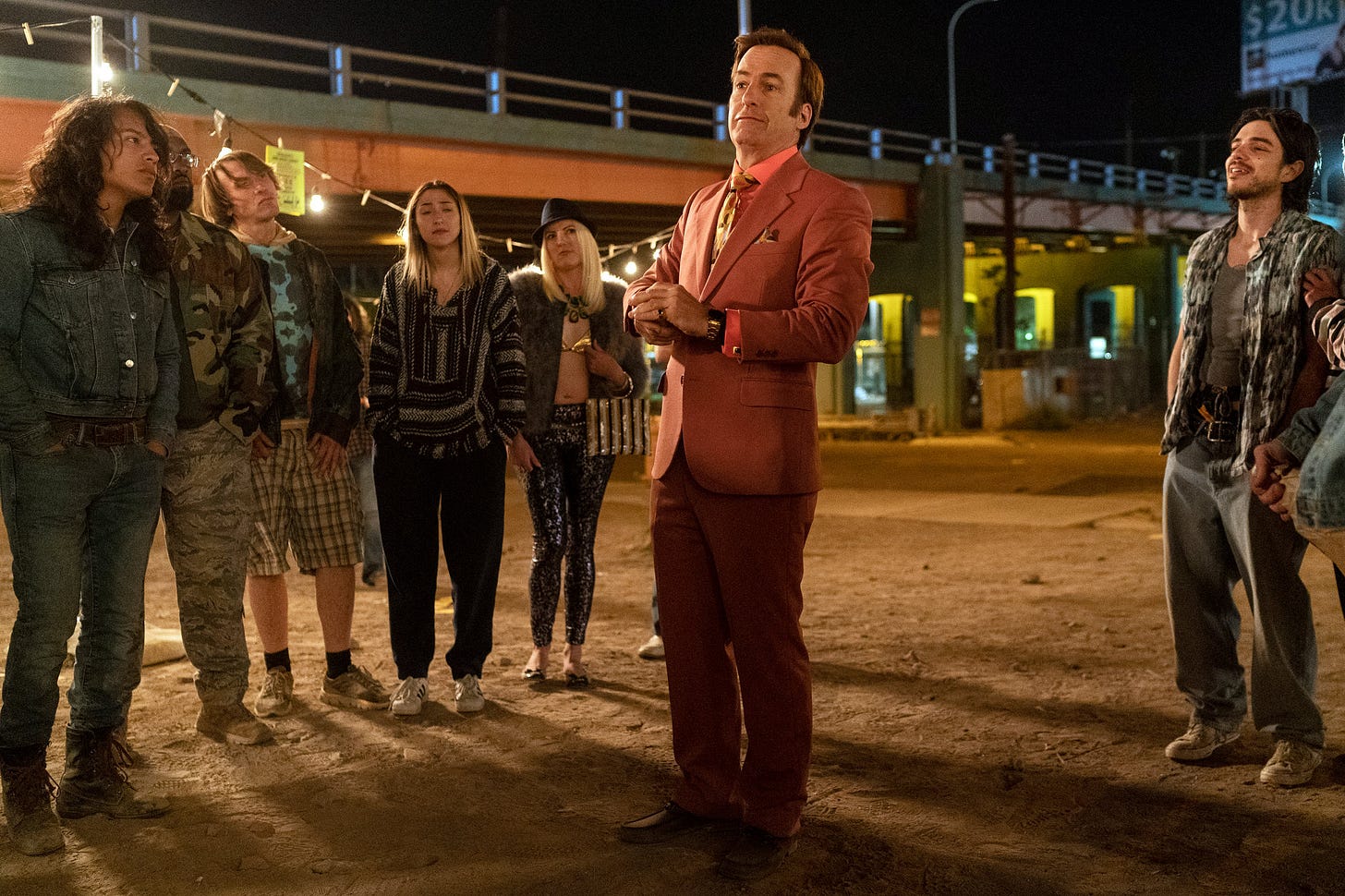 Better Call Saul, Season 5 Episodes 1 & 2 (AMC, 2020) – The best scripted show on American television returned this week after an extra-long hiatus, with a two night premiere that continued the show's trajectory of getting richer, smarter, and more expertly emotive with each passing season. Jimmy McGill (Bob Odenkirk) has officially adopted the name Saul Goodman, and Mike Ehrmantraut (Jonathan Banks) has finally fulfilled his destiny of killing on the orders of Gus Fring (Giancarlo Esposito), but neither man's identity is anywhere near settled, and process – either literal workmanship, like an amazing montage in the premiere of Saul hustling to get clients, or emotional process, like a brutal sequence in the second episode where a deeply rattled Mike snaps at his beloved granddaughter – remains the heart of this tremendous show. 
Cats (Tom Hooper, 2019) – But you guys already know all about this one.
Fire Emblem Three Houses – Cindered Shadows DLC (Nintendo Switch, 2020) – I wound up pretty lukewarm on Fire Emblem Three Houses last year, and this DLC campaign, which sees protagonist Byleth assisting the underground fourth house at Garreg Mach, is very much of a piece with that. Which is to say, the characters are great, but the story is overlong and indulgent, and the combat is a real mixed bag. The DLC delivers some very good campaign maps and some very underwhelming ones, and the difficulty still feels out of whack – either too easy or too hard – depending on what level you set it at. Fine, but nothing special. 
Mega Man X Legacy Collection 1 (Capcom, 2018) – This was on sale a few weeks ago, so I picked it up for Nintendo Switch. Mega Man has long been a blind spot in my gaming experience, though I've liked what I've played of the X games before. I jumped around the collection a bit this week, playing all of X1 and X4, and a little of X2 and X3. They're great games, with wonderful level design, movement, and combat, though the first three SNES games in particular are brutally difficult. X4 is easily my favorite of the lot, as it's the first 32-bit game in the series (originally for PS One and Sega Saturn), and the graphics are just drop-dead gorgeous. You also get to play as Zero, who is the best Mega Man character, and that's just awesome. I also picked up the Zero Legacy Collection this week, and I'm loving it, but more on that next time.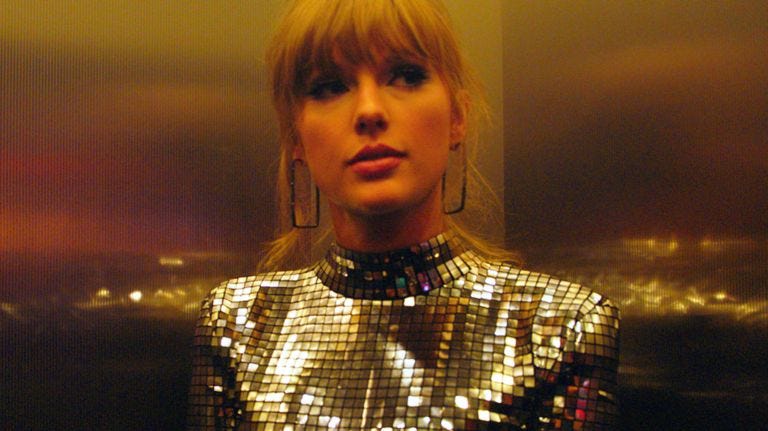 Miss Americana (Lana Wilson, 2020) – This intimate documentary about the last few years in the life of Taylor Swift, leading up to the release of her most recent album, Lover, struck me as surprisingly sad. It's a really well constructed portrait of someone who's spent their entire adolescence and adulthood under a giant spotlight, forming their personal identity in tandem with this massive public image, and for the first half in particular, there's a real melancholy to it. Swift was clearly quite hands on with the production, so this is ultimately her story the way she wants it told, but I think Wilson really found a way into that story as a filmmaker in that quiet sadness, where the private and personal are blurred in ways that eschew a typical 'behind the curtain' musical documentary. She's taken what could have been a pretty simple promotional doc and made what feels like a pretty valuable cultural document about celebrity objectification and how women are conditioned to silence and stunt their own voices. The film is streaming on Netflix. 
Neon Genesis Evangelion (Gainax, 1995), Episodes 7-15 – I've been working my very slowly through this iconic anime on Netflix, and as soon as I'm done writing this, I'm gonna have to hurry up and start binging the last twelve episodes, because it's what our next podcast episode is supposed to be about. The glacial speed at which I've ben moving may tell you something about how much I've been enjoying it. Bleh. But more on that come Monday…
Pleasantville (Gary Ross, 1998) – We watched this for one of my graduate seminars this week, and wow is this thing creaky. If you've never seen it, it's a story about a teenager (Tobey Maguire) obsessed with re-runs of an old Leave it to Beaver-style sitcom called Pleasantville, who gets sucked into the world of the show alongside his twin sister (Reese Witherspoon). As they introduce 'reality' to the ensconced nostalgia of the TV show, the black-and-white world slowly starts turning to color, and what unfolds is one of the most confused messes of mish-mashed thematic content I've ever seen. It's a Garden of Eden narrative, with literal forbidden fruit the film straight-up circles and underlines for us; but it's also a racism allegory, complete with a "No Coloreds" sign, yet without a single non-white person anywhere in the film; .and it's about book-burning, with overt Nazi resonances; and it's sort of a Footloose thing at certain points with rebelling via music and dancing; but it's also about graffiti and public art; and it's also about repressed sexuality, which is weird, because while American culture is more open about sex today than it was in the 1950s, we are by no means unrepressed, and the film's thesis, that internal repression leads to external oppression, is just insultingly simplistic. Not good. 
A Quiet Place (John Krasinski, 2018) – We showed this in the Intro to Film Studies class I TA. It was the second time I've seen the film, and it remains a remarkably skillful, taut slice of sci-fi horror, with a great set of performances and an extremely strong command of style. The monsters look like they were recycled from 2014's Godzilla, Cloverfield, Stranger Things, Spielberg's War of the Worlds, and a dozen other 2000s monster movies that have proven Americans categorically can not design a cool movie monster, but that's really the only weakness to this one. 
Zoey's Extraordinary Playlist, Episodes 1-3 (NBC, 2020) – This musical dramedy is very different than the dearly departed Crazy Ex Girlfriend – it's a jukebox musical, for one, using existing hits rather than original numbers – but after binging the first three episodes this week, it's already filling the hole in my heart left by the CW's instant classic. Jane Levy is fantastic in the lead role, as a young woman who suddenly starts hearing the thoughts of her friends, family, and coworkers in the form of elaborately choreographed pop tunes, and it's got a great supporting cast including Skyler Astin, Peter Gallagher, Mary Steenburgen, and the wonderful Lauren Graham (underused until the third episode, where she is very well served indeed). It's a show with a big heart and a good sense of humor, and the central musical gimmick is a lot of fun, thanks in no small part to Mandy Moore's impressive choreography. This is one of the best network pilots I've seen in years, and the subsequent episodes feel like the show really has legs. It airs on NBC but also streams next day on Hulu, so there's no excuse not to check this one out.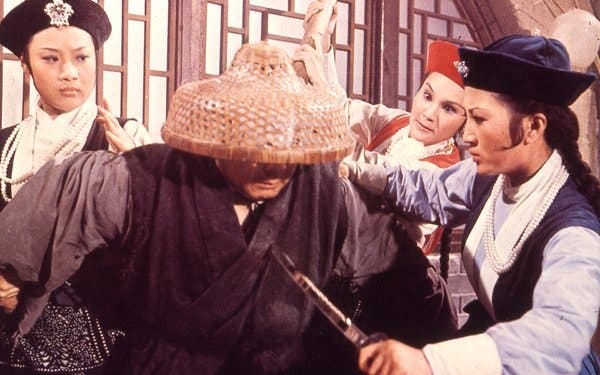 PICK OF THE WEEK – The Fate of Lee Khan (1973, King Hu) – Taiwanese director King Hu's extraordinary body of work, primarily consisting of incredible wuxia martial arts films, has been a major discovery for me the last few years, as his films, long languishing in obscurity or outright unavailability, have received exquisite restorations and started reaching DVD and Blu-ray in the West. Both Come Drink With Me and Raining in the Mountain are coming out in the UK on Blu-ray this month, and as part of that order, I also imported Eureka's release of this film, The Fate of Lee Khan, which I watched over the weekend. It is, as expected, stunning, a genre confluence of traditional wuxia, espionage thriller, and 'hang out' comedy, as a collection of shady government agents and rebel spies meet at the remote Spring Inn, both trying to get their hands on a map of rebel encampments. The film is an enormous treat, and marked the first time Hu worked with the great Sammo Hung, who went on to make his name choreographing alongside Jackie Chan in the Hong Kong boom of the 80s. Hung's weighty, hand-to-hand combat mixed with Hu's more balletic style is a match made in heaven. If you're a fan of Hu's better known films, like Dragon Inn or A Touch of Zen, this is not one to miss. I imported it from the UK, but it's also on DVD and Blu-ray in the US from the FilmMovement label. 
So that's me. What have you been watching? Sound off in the comments, and let me know if you wind up taking in any of these recommendations! Enjoy the weekend, and I'll see you again on Monday.