Discover more from The Weekly Stuff Wordcast
Writing about Movie, Games, TV & more!
Music Review: "A Very She & Him Christmas" is an instant classic!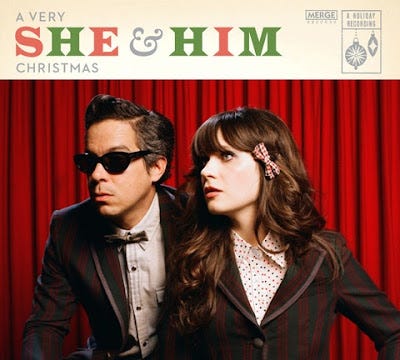 Album Rating: A
"A Very She & Him Christmas" is the best Christmas album I've ever heard, hands down.
That may sound like a bold statement, but from my frame of mind, it's not exactly the highest praise I've ever given.  Christmas is my favorite time of the year; I live for December, for lighting the tree, decorating the house, spending time with family, watching Christmas specials, enjoying the snow, etc.  But Christmas music?  I find that to be a lot more hit and miss than the season itself, and I'm ultra-critical of Christmas music performances.  I just plain don't like many artists' renditions of the classics, and I'm always annoyed that no one seems to have written a new Christmas song in my lifetime.  I've grown up listening to my parents' vast collection of Christmas music, and not only do I find it all somewhat hit-and-miss, but I'm also continually struck by artists' inability to construct an actual Christmas album with momentum, flow, and steady thematic resonance.  Given the gargantuan number of songs at their disposal, the music industry should be able to do better, right? 
In short, I don't think Zooey Deschanel (She) and M. Ward (Him) have a lot of competition out there for the title of "best Christmas album."  That shouldn't take anything away from the excellence of this record, though, because what Deschanel and Ward have accomplished here is absolutely remarkable, the new standard by which all future Christmas albums – and individual recordings, for that matter – should be judged.  More after the jump...
I'm a huge She & Him fan.  I don't care to admit how many times I've played their first two albums – "Volume One" and "Volume Two" – but suffice it to say, their songs are in fairly constant rotation on my iPod.  I'm so impressed by the duo's work that, much as I love Zooey Deschanel's acting, I'd almost prefer she give up the day job and commit entirely to music.  But I was a little wary when they announced their third album would be a Christmas project full of covers; their weakest material to date are the three covers found on "Volume One" – "You Really Got A Hold On Me," "I Should Have Known Better," and "Swing Low, Sweet Chariot" – all of which fell flat on an album that otherwise soared.  The prospect of an all-covers album, especially of such well-trod material, didn't sound promising. 
The highest praise I can give the album, then, is that Deschanel and Ward make all these songs their own.  From "I'll Be Home for Christmas" to "Silver Bells" to "Jingle Bell Rock" to "Little Saint Nick," each track sounds like a She & Him original.  The distinctive indie-folk flavor that defined their prior work is back in full-force here; they don't treat this as a pit-stop on their musical journey, as many artists do at Christmas, but as their proper third album, and that devotion to the material is what makes this one of the great achievements in modern Christmas-themed recording. 
After all, if any group working today were destined to record a Christmas classic, it would be She & Him.  Deschanel introduced her singing voice to the world in "Elf," and for many, her shower performance of "Baby It's Cold Outside" is more memorable than the film itself (not for me though, I loved the movie).  As the film hinted, Deschanel has a natural knack for Christmas music few artists possess, but I doubt even the most devoted Deschanel fans will be prepared for her performance on this album.  Her voice is crystal clear, gorgeous, full, and richer than ever before.  She is a singer in complete command of her craft, lending each song exactly what it needs to click; she can be soft and contemplative, fun and energetic, playful, adorable, etc.  Zooey thoroughly understands the heart behind each and every one of these songs, making them work in ways they rarely do.
In fact, it's surprising how many songs there are here that I usually can't stand.  "I'll Be Home for Christmas" is a well-written piece almost exclusively performed blandly, yet Deschanel and Ward breathe new life into it, providing the verve and character the song needs to soar.  I'll be going through song-by-song later on, but the phenomenon continues right on to the last track, where She & Him do the impossible by making the woefully overplayed "Christmas Song" sound new again. 
I don't want to undersell Ward's contributions, both as guitarist and producer.  The album takes a fairly traditional direction with these songs, and none of them are heavily produced; in a few cases, it's just Ward on acoustic guitar and Zooey on vocals.  Yet Ward produces each song in just the right way, putting a great amount of care and thought into which instruments and what production techniques will best enhance a given number.  Ward is known for reveling in simplicity, and just as Zooey was clearly born to sing Christmas songs, it's a talent that inherently makes him the right man for this job.  The brilliance of the She & Him partnership has never been so strongly vindicated as it is here.
Most impressive of all is that Ward and Deschanel structure this as a real, honest-to-God album.  As I said before, most artists just throw together a slapdash collection of festive songs, but Ward and Deschanel give great thought to sequencing and momentum.  Slow songs don't follow slow songs, the album never gets uncharacteristically fast, there's musical variation from one track to the next, gaps between tracks are almost nonexistent, and most importantly, the choice and order of songs – particularly using "Christmas Waltz" as the opening and ending with "Christmas Song" – gives the album a thematic through-thread that paints a vivid picture of the Christmas season and what it means.  This is one of the rarest-of-rare achievements in the recording world: a Christmas album that really flows as one complete, musical statement. 
It's not just the best Christmas album I've ever heard by a wide margin, but also a valuable entry in the She & Him canon, a strong next step for the duo that demonstrates their remarkable talents as music's most relentlessly pleasant performers.  I can't wait for new original material, but for the time being, I'll be playing this album all the way up to December 25th, and possibly beyond.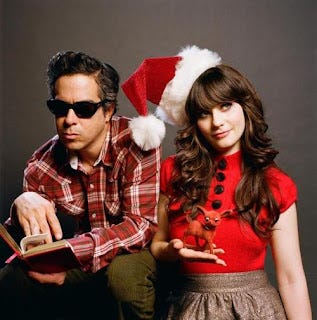 Song-By-Song Analysis:
1. The Christmas Waltz – A Christmas song that hasn't been done to death, which is automatically a plus, but more importantly, it's a beautiful one that sets the tone for the album.  Placing it at the start is a brilliant move, as the lyrics paint a visual canvas of the season that provides setting for the rest of the album.  Zooey delivers a knockout vocal performance, restrained but earnest, while Ward's guitar work is gentle and appealing.  Bonus points for Zooey's delightfully simple, Peanuts-esque piano break in the middle.  
2. Christmas Day – Remember when I noted that it seems like no one has written an original Christmas song in my lifetime?  Trust She & Him to rectify that with this excellent new composition.  If you've ever heard one of Zooey's originals, you know what to expect here: observational, thoughtful lyrics that say a lot in few words, bolstered by a catchy melody and fun instrumentation.  This is also the first appearance of "Zooey-harmonizing-with-overdubbed-Zooeys," one of my favorite She & Him tropes.
3. Have Yourself a Merry Little Christmas – This is the weakest cut on the record, but not bad by any means; it's the only one that the duo don't do anything particularly creative with, instead relying on Deschanel's voice to carry the (criminally overplayed) song.  Unsurprisingly, Deschanel is up to the challenge, and it's a nice, honest take on the material. 
4. I'll Be Home for Christmas – I mentioned this one earlier; I often can't stand this song, but Zooey and Ward give it a wonderful energy and spunk without going overboard; I have no qualms in saying this my favorite rendition of the song.  So many recording rely solely on the song's pathos without giving any thought to musicality, but this version is legitimately catchy, and more moving for it. 
5. Christmas Wish – For the first time, Ward gets lead vocals on a She & Him track, and he does a very good job; his voice is perfect for these lyrics, lending the song a unique atmosphere.  "Wish" builds momentum at just the right time, too, and this is where we first realize that Deschanel and Ward are striving for more than a simple collection of festive tracks. 
6. Sleigh Ride – To my great pleasure, "A Very She & Him Christmas" is structured as an LP, and this is clearly a "Side One" closer; it's energetic but also appropriately reserved, and it sounds awesome.  Deschanel and Ward switch off vocals to great effect, and even sing a verse we don't usually hear in covers of this song.  A very good culmination of the record's first side, leaving the listener on a good note if they care to take a short break.
7. Rockin' Around the Christmas Tree - …And we're back with a count-off and Zooey-harmony for side two!  I often hate this song (I think I watched "Home Alone" too much as a kid), and I wasn't sure whether or not I would like this version until a chorus of Zooey's chimes in.  I love that no matter what the context, and Ward's excellent, laid-back guitar solo really kicks things into high gear.  Another definitive cover of a track I never thought I'd love. 
8. Silver Bells – I suspect reaction to this track will be divisive; the production is sparse, stripped down to one vocal track and what I believe is a Ukelele (which, according to the booklet, means Deschanel did this one solo).  Some will be underwhelmed, but for me, the total simplicity of this track works really well.  "Silver Bells" is obviously one of the most often-performed Christmas songs, and it's usually laden with lots of production; even the a capella version I performed with the 24th Street Singers at Golden High School was more elaborate than this.  But that's what makes this version so unique.  There's something so earnest about a lightly strummed Ukulele, and Zooey's vocals add more than a choir, piano, guitar, or even bells could combined. 
9. Baby It's Cold Outside – Well this one had to be on here, didn't it?  Once again, Deschanel and Ward shake things up on a song that every artist takes a crack at once in a while, reversing the male/female parts and playing it uptempo.  A very interesting take, and one that's instantly endearing for the wonderful chemistry Deschanel and Ward share.
10. Blue Christmas – Once this one started up, I forgot to continue taking notes: this is Zooey's knockout performance of the album, a gorgeous vocal showcase that blows nearly every other incarnation of this song out of the water.  I think this may be Zooey's most technically accomplished song in her discography; the heartbreaking emotions of the lyrics, so often overwrought, have never come through so clearly to me as they do here. 
11. Little Saint Nick – I'm sure it's a Ukelele this time, and it sounds great!  Zooey is in full adorable mode here, and she's clearly having a fun time with these thoroughly silly lyrics.  This track wins the "Choir-of-Zooey-Harmonies" award for the album.
12. The Christmas Song – She & Him's first two albums had weak or anticlimactic closing tracks, but this one works perfectly as the final song.  Again, this is a Christmas song that doesn't usually connect with me, but as with so many tracks on the album, Deschanel and Ward discover that stripping the song down to its bones reveals the heart of the piece.  Zooey in particular knows exactly what to do with the lyrics, singing with just the right amount of melancholy.  I suspect that this song will get plenty of air-time on Christmas radio this December, but playing it out of context is criminal, because it has so much power as a closing track, a final summation of everything the album – and the season, really – is about.  A terrific conclusion to a remarkable album. 
If you enjoyed this article, please Donate to 
"Jonathan Lack at the Movies"
to support future reviews!