Discover more from The Weekly Stuff Wordcast
Writing about Movie, Games, TV & more!
"Spotlight," "Mad Max" win top honors in 2015 Denver Film Critics Society Awards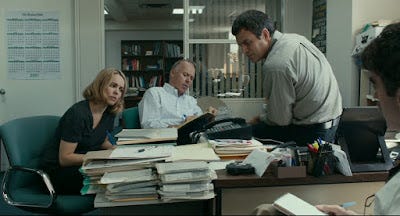 Last week, I shared my picks for nominations in the 2015 Denver Film Critics Society Awards, of which I am a voting member, and then the actual nominations themselves when they came out on Tuesday. Today, the Society has announced its winners, and it's a really strong batch overall, led by Spotlight for Best Picture but with the love spread evenly over a bunch of great titles, reflecting what a rich year for film this was. There are some wonky spots, but overall, I like this group of winners a lot, and I once again enjoyed participating in the process greatly.
Continue reading after the jump for the complete list of winners, along with some brief commentary on each category…
Best Picture: "Spotlight"
I had this on my second-ten list, and as I said there, it's undoubtedly one of the year's most expertly crafted films, so even if it wasn't my vote, it's certainly a worthy winner.
Best Director: George Miller, "Mad Max: Fury Road"
The award I most cared about this year went right where it needed to go. I think it's getting a little silly how much various awards and critics groups are bending backwards to reward George Miller but not the film itself – if it's the best-directed film of the year, how is it not the best film of the year period? – but if we have to give the film one award, this is the one it deserves, as what Miller pulled off is already legendary.
Best Actor: Leonardo DiCaprio, "The Revenant"
I think DiCaprio is outstanding in this film, doing mostly nonverbal work, but it is slightly ironic to me that this is going to wind up being his most awarded role to date (including, likely, his first Oscar), when it really only shows a small sliver of his overall range as an actor. Oh well. He's deserving, even if I think someone like Michael Fassbender delivered a more overall fully-realized character creation.
Best Actress: Brie Larson, "Room"
No complaints here. Larson is magnificent. I wish she would have won all these awards a few years back for Short Term 12, but better late than never, and she's just as deserving for Room.
Best Supporting Actor: Sylvester Stallone, "Creed"
Hell yes. Another winner I was pulling for hard, I think Stallone is the clear champion in the year's most competitive category. A great actor doing career-best work in a 40-year-old role in one of 2015's best movies? How can you not think this was the best in the category? He's magnificent.
Best Supporting Actress: Alicia Vikander, "Ex Machina"
Yup. Sounds about right. And it's nice to give Ex Machina some recognition in a major category.
Best Animated Film: "Inside Out"
Indeed. An absolute animation landmark.
Best Science Fiction/Horror Film: "The Martian"
Confession: I think The Martian is incredibly overrated. It's a good movie. I don't think it's a great one and I certainly wouldn't call it the year's best sci-fi…but that's just me.
Best Comedy: "What We Do in the Shadows"
Damn right. If you haven't seen What We Do in the Shadows, rectify that, and clear a day to recover from the pain of the sidesplitting laughter the film will produce.
Best Original Screenplay: Tom McCarthy, Josh Singer, "Spotlight"
Just realized I have no idea how this qualifies as an Original Screenplay. It's based on a book which is based on factual events…so how is this not in Adapted? I think that's where I had it in my initial nomination pool…so did we make a mistake? It's a great script, but I guess I don't understand its placement (hence the arbitrary nature of film awards). 
Best Adapted Screenplay: Adam McKay, Charles Randolph, "The Big Short"
Eek. I think this is a pretty poor script all-around, well-researched but utterly confused as to what it wants to be, tonally or thematically, and structurally broken from the start. There were so, so many better choices in this category, I kind of wonder if other films wound up splitting the vote.
Best Documentary: "The Look of Silence"
This was a 2014 film for me, but I think it's a stone-cold masterpiece, so I'm very happy it won this award.
Best Visual Effects: "Mad Max: Fury Road"
Yup. Another exceedingly deserving winner.
Best Original Song: "See You Again" (Wiz Khalifa, DJ Frank E, Andrew Cedar and Charlie Puth), "Furious 7"
Really the only worthwhile original song of the year, so it's kind of a winner by default, but nice to see it get the recognition.
Best Score: Ennio Morricone, "The Hateful Eight"
Morricone bringing his 70s horror chops to a modern Western throwback? A recipe for magic, and a deserving winner.
Best Foreign Language Film: "Son of Saul"
Still haven't seen this, and I hope to rectify that as soon as possible.
Visit the Denver Film Critics Society on the web at www.denverfilmcritics.org.