Discover more from The Weekly Stuff Wordcast
Writing about Movie, Games, TV & more!
Springsteen Sundays: My Dream Setlist for the E-Street Band's San Jose Show on April 24th!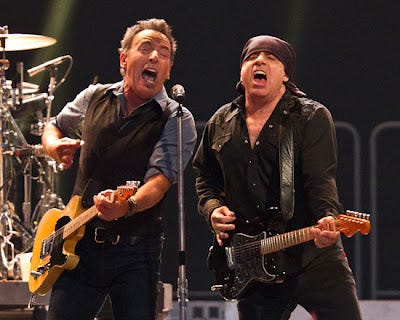 Bruce and Steve playing in Greensboro
Photo courtesy Backstreets.Com - Taken by A.M. Saddler
Welcome to Springsteen Sundays, my weekly column celebrating my favorite musician, personal hero, and all his awesome musical friends: Bruce Springsteen and the E-Street Band!

Speaking of which, I hear the boys are on tour right now, and since the first US leg won't be stopping by my hometown of Denver, Colorado, I'm flying out to northern California to catch this Tuesday's San Jose show at the HP Pavilion!  In fact, by the time you read this, I'll already be in San Francisco seeing the sights to distract from my rabid anticipation as much as possible.  In the interest of full disclosure, I'm a young guy, and this will be the first Bruce show I've ever gone to (though I have all his live DVDs and over 24 hours of live recordings in iTunes, so I feel like I've been before).  Thus, my current level of excitement is approximately off the charts. 
To bide time until the show, I've come up with my personal Dream Setlist for the San Jose show, and you can read all about it – and hopefully comment with your own Setlist! – after the jump….
Realizing this setlist project might take a bit of work, I decided to tackle it as logically and methodically as possible: I started by going into my iTunes library, looking at all my Springsteen music, and writing down the names of every song I'd like to see performed live. 
Five minutes later, when I'd typed roughly 100 song titles and still had about half my library to go through, I realized that this was the stupidest way I could go about this project.  I love just about every one of Bruce's songs, so it's unlikely I have the discipline to whittle them all down into some sort of mythical 'dream' setlist. 
So I scrapped that idea and decided I should just try planning a good (hypothetical) show, using setlists from recent Wrecking Ball shows as a basic framework.  The final product definitely favors my personal Springsteen tastes – I made sure to get my absolute favorite songs in there – but apart from one or two flourishes, it's not a setlist that's completely out of the question for this tour. 
Without further ado, let's take a look at the setlist, with notes describing my choices:



Dream Setlist – San Jose, April 24th
Badlands
Wrecking Ball
Prove it All Night
Death to My Hometown
My City of Ruins
The E-Street Shuffle
I like "We Take Care of Our Own" a whole hell of a lot, but for my first Bruce show, I'd love nothing more than to start with "Badlands," and lucky for me, Bruce actually did this during the recent New York shows, so it's not out of the question.  The rest of the progression is pretty close to the early set-lists, because I think it's a pretty stellar way to start the show.  For the slots where he's been swapping out various classics, I put in "Prove it" and "E-Street Shuffle," because I've always wanted to hear them live, and "E-Street," at least, absolutely killed at the Apollo show.
Restless Nights
Ain't Good Enough for You
Where the Bands Are
Racing in the Street
Take 'em as they Come
Out in the Street
Here's where I get inventive.  Studying recent setlists, this is a spot where Bruce has opened the song choices up, so I felt free to go nuts; I took out "Jack of All Trades" – which I love, but don't necessarily need to see – and put in a series of favorites: "Restless Nights" for Steve and "Ain't Good" for me.  Continuing with the classic outtakes, "Where the Bands Are" is an awesome Tracks song that would sound amazing in concert, and "Take 'em" is probably one of my two or three favorite Bruce songs of all time.  "Racing in the Street" goes without saying, and would be a nice calm-down after the energy of the preceding numbers (and he has played it recently, so maybe…).  "Out in the Street" is such a fun live song, and it's apparently gone over fantastically in recent shows, so there it is.   
Shackled and Drawn
The Promise
Waitin' on a Sunny Day
The Promised Land
Trapped
American Skin (41 Shots)
Going back to the established setlists, this group is close to a number of the early shows, except for "The Promise."  He's played it once so far as of this writing, and I need to hear it.  As you know, I think it's his best song.  "Shackled" was there early on until "Easy Money" usurped its spot for a number of shows, but I like "Shackled" a lot more, so it's here.  The others are just ones I'm excited to hear live: I love "Sunny Day," "Promised Land" is my favorite Bruce song, and "Trapped" and "American Skin" are two fantastic live exclusives I'd go crazy for.    
Mary's Place
Backstreets
Thunder Road
Recent shows have usually put a Rising song next, and I've always wanted to hear "Mary's Place" live, so there it is.  I think that signals the start of the main set's climax pretty well, so I then went to one of the most thrilling, climactic songs in the catalogue: "Backstreets."  It just made its tour debut as of this writing, so it's not out of the question.  And finally, I trusted Bruce's judgment for the main set closer: why would I ever deny the perfection of "Thunder Road?"  I thought about ending my 'dream' show with "Rosalita," but as much as I love the song, I just don't have a burning desire to hear it without Clarence at the moment (same goes for "Jungleland" and a number of others left off this setlist). 
Encore #1
Rocky Ground
Land of Hope and Dreams
Born to Run
For the first encore, I cut-and-paste exactly what Bruce did in the early shows.  "Rocky Ground" is my favorite new composition from Wrecking Ball, and "Land of Hope and Dreams" is probably in my personal top-ten songs, so I have to hear them.  Do I need to explain "Born to Run?"  Bruce and the Band got this encore 100% perfect, and who am I to mess with perfection?
Encore #2
4th of July, Asbury Park (Sandy)
Detroit Medley
Raise Your Hand
Tenth-Avenue Freeze Out
This isn't a likely encore – both for its length and song selection – but it's what I'd like to hear.  "4th of July" is such a beautiful piece, and while there's been a consistent Clarence tribute on this tour, there hasn't been one for organist Danny Federici, so I'd love for the Band to break it out.  The "Detroit Medley" was used on the Born to Run, Darkness, and River tours, and the live recordings I have of it – particularly from the Hammersmith/Odeon '75 show – are just an unholy amount of fun.  The same can be said of "Raise Your Hand," which I never thought would be used until the Band performed it a few weeks ago in Boston!  So I really, really, really hope we get it in San Jose.  And then we need "Tenth-Avenue," which Bruce has effortlessly transformed into a stirring Clarence tribute – a perfect way to end the show. 
So there you have it!  My Dream Setlist for San Jose!  If they actually play 28 songs including two encores, I would be a happy, happy fan.  But whatever Bruce comes up, I'm sure we can trust it to be suitably amazing.
If you're attending the San Jose show, or any other upcoming venue, what do you hope Bruce and the Band will play?  Sound off in the comments!  I'd love to hear your thoughts!