Discover more from The Weekly Stuff Wordcast
Writing about Movie, Games, TV & more!
Springsteen Sundays: A personal story about "The Promise," Bruce's greatest outtake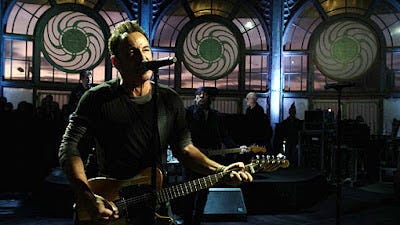 Bruce and the Band playing "The Promise" at the Carousel in Asbury Park
Welcome to Springsteen Sundays, my weekly column celebrating my favorite musician, personal hero, and all his awesome musical friends: Bruce Springsteen and the E-Street Band!
One week ago today, Bruce Springsteen and the E-Street Band played the classic outtake "The Promise" in their Washington D.C. show; it was the song's tour debut, and one of the only times the band has ever performed it life.  To those who know and love the song, whether they were in the stadium or not, it felt like a significant moment to be a E-Street fan. 
But those who attended the show reported that the majority of the audience wasn't nearly as stirred by the song's performance.  Writing for Springsteen fansite Backstreets.com, Bob Zimmerman wrote: "As great as the crowd was at the Verizon Center, it seemed that only a handful of people in the entire place got their rocks off on the full-band premiere of 'The Promise.'"  It stands to reason, I suppose; Springsteen has tens of millions of fans, and those who have every release in their collection, chat with other aficionados online, and follow the nightly setlists religiously are in the minority.  The chances of a casual Springsteen fan having heard a 34-year-old outtake, no matter how hyped it's been in some circles, are not good.  "The Promise" just isn't going to resonate with audiences the way a universally familiar classic like "Born to Run" does.
But in a perfect world, it absolutely would.
I have a hard time committing to any individual song as my favorite Springsteen track – I default to "Promised Land" as a convenient choice – but I can say with confidence that none of Bruce's compositions have touched me as powerfully as "The Promise," and in that way, I believe it is Springsteen's best song.  Today, I'm going to tell you the story of my personal encounter with "The Promise."  If you're unfamiliar with the track, hopefully this will get you interested, and if you're a long-time believer, I'm sure you'll understand exactly where I'm coming from.  Continue reading after the jump...
But first, a little background: "The Promise" was written alongside dozens and dozens of other songs for the album that would ultimately become Darkness on the Edge of Town; like most of those tracks, it didn't make the final cut, and the original E-Street Band recording wasn't released until 2010 as part of the eponymous 2-CD collection of Darkness outtakes.  A piano-based acoustic version was included years earlier, in 1999, on the 18 Tracks outtake disc.  The song is sometimes called the 'sequel' to "Thunder Road," as it references the classic track in its chorus and seemingly follows the same character as the dreams he once enthusiastically sang about whither and die:
I followed that dream just like those guys do way up on the screen/
I drove my Challenger down Route 9 through the dead ends, and all the bad scenes/
And when the Promise was broken, I cashed in a few of my own dreams…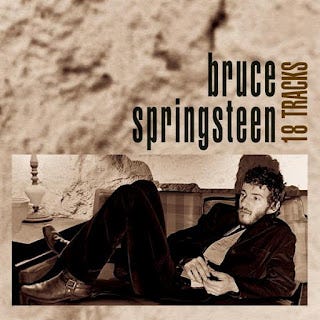 I first heard "The Promise" early in 2010.  It was the piano version from 18 Tracks, and I knew little about it at the time; I bought it on iTunes, along with a few other songs, to fill the gaps in the full Tracks set I'd gotten a few months earlier.  When I put in my headphones to give it a listen, I had no idea I was in for the single most emotional, gut-wrenching, and cathartic musical experience of my life.  By the time Bruce sings "…it steals something from down in your soul," I was openly weeping.  I'd been having a pretty rough time back then, and every single word of "The Promise" perfectly articulated the things I was feeling, emotions I struggled so deeply with that hearing them put to music seemed to immediately free my soul. 
I was in High School at the time.  Academics have always been a breeze for me, but social interactions were a massive challenge.  I didn't understand or get along with many of my peers – most of the time, I still don't – and coupled with obesity issues, I spent lots of my school life lonely and depressed.  I had certain groups of friends and support systems, but I wanted more.  Two years before I heard "The Promise," I decided to change my life and become a happier person.  I'd had a life-changing positive experience during a school trip hanging out with people my own age, and I wanted to keep that feeling alive, that feeling of warmth and acceptance.  So I decided to lose weight, join some new activities, and be a more social person.  I worked hard on it for two years, loosing close to 200 pounds, making new friends, and for a while, finding the exact acceptance I'd set out to find. 
But adolescence is more about learning life's hard truths than achieving significant triumph, and during my Senior year, I discovered that dreams don't always pan out in reality.  I went into that year happier than I'd ever been, full of self-confidence and excited for the future, but over the next few months, it all fell apart.  I wasn't as close to people as I thought, and I wasn't making in-roads with the groups I'd wanted to be a part of.  For instance: I practiced night and day to enter the school's most prestigious Choir, all because it was filled with kids I respected and wanted desperately to be friends with, but when the class actually started, I felt like an awkward outsider, no different from before, and soon became miserable.  That experience was mirrored in several other areas; I'd worked so hard to improve my life, but when I arrived at where I thought I was going, the destination didn't seem any better.  I'd won a few statewide speech contests with an oration explaining my new philosophy, approach to life, and weight loss, but where I was once so proud of those words, they just felt like bigger and bigger lies with each passing day. 
So by the time I heard "The Promise," I just felt horrible all the time.  Looking back, I don't think there was anything terribly wrong with my life; it's just that I'd dreamed of something bigger, and when it all felt so close, it disappeared.  That hurt more than anything else. 
That's the story told on "The Promise" as well.  The details might be different, the stakes no doubt higher and more life-changing, but the emotions are identical:
When the promise is broken you go on living/
But it steals something from down in your soul/
Like when the truth is spoken, and it don't make no difference/
Something in your heart goes cold
That's what I felt like, every day.  The promise I'd made to myself was shattered, and that cut me to my very core, bringing me down to a level of depression more extreme than anything I'd ever felt in the past.  But I didn't really understand that at the time – all I knew was that I felt very, very sad.  I couldn't articulate why, and that only made things worse.
And at the height of my melancholy, Bruce Springsteen, my hero, explained to me what I'd been feeling and why.  The beauty of that acoustic piano rendition is its directness – there's absolutely no barrier holding any shred of emotion back: it all comes through and it hits hard.  That's why I wept when I first heard the song.  The lyrics and performance cascaded over me like a wave of salvation, and for the first time, I understood the pain that had been eating away at my heart.  Were I a musician with Springsteen's talent, "The Promise" is the song I would have written at the time.  It just felt intensely, profoundly personal, unlike any piece of music I'd ever encountered, and after only a few more listens, I knew I had to absorb this song on an even deeper level.  So I bought the 18 Tracks sheet-music book, made a copy of "The Promise" pages, and brought it to my private singing teacher, requesting that we hold off working on the arias and folk songs she'd assigned me to sing this song. 
She agreed, and we proceeded to work on "The Promise" for weeks.  It was harder to master than I thought, but singing it always felt natural.  It was my song, and the more I listened to Bruce's version and performed it on my own, the more it helped me to heal.  I started getting over the death of my dream, and found solace in what I'd always had – my Speech and Debate friends, my Orchestra pals, my family, etc.  Those people, along with "The Promise," were enough, and by the time I graduated High School, I was more or less happy again.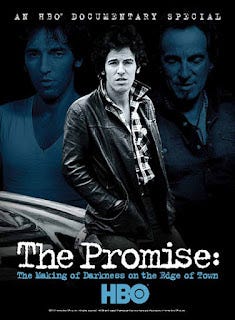 In the midst of all this, the six-disc Darkness on the Edge of Town reissue was released, including the E-Street Band recording of "The Promise" and a wonderful documentary on the making of the album by Thom Zimny.  The film made my Top Ten List for 2010, in part because it's a blindingly brilliant piece of filmmaking, but also because it brought me closer to this song I loved so much.  "The Promise" is a representation of everything that era of Springsteen's life was about: the struggles, sadness, and uncertainty accompanying the fall-out of Born to Run's success.  I believe it is the most personal song Springsteen ever wrote; he poured absolutely everything he had into it, holding nothing back and romanticizing not a single emotion.  It is a musical confession of a feeling we try to deny even when it consumes us: hopelessness.  That's why he had to leave it off Darkness.  It's not an album about a world devoid of hope, and more importantly, Springsteen was just too damn close to the song to share it with the world.  I often feel that way towards "The Promise" as well; I have to leave it alone for months sometimes, because it cuts too close to my own heart to be part of the constant rotation.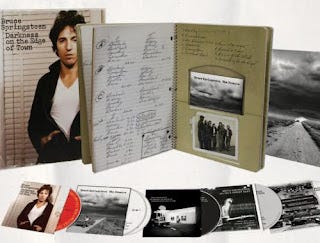 The box-set built around "The Promise"
Nevertheless, as I wrote above, I believe "The Promise" may be his best song.  The lyrics are just so indescribably beautiful, so profoundly sad and emotionally direct, that no matter how it is performed, "The Promise" always carries an incredible amount of power.  I personally favor the acoustic piano version, but the E-Street Band arrangement is absolutely wonderful as well; I love how slow and measured they keep the tempo, highlighting and enhancing the inherent beauty and melancholy of the piece. 
I hope to hell I hear them play it when I see the Band on tour later this month in San Jose.  It would mean the world to me, and I hope I've adequately explained why.  I can only speak from personal experience, but given the way fans love "The Promise," I suspect many of you share similarly intimate connections with the song.  Like the best of Bruce's work, it goes beyond entertaining or enthralling: it connects with our hearts, shares in our sadness, legitimizes our deepest fear and regrets, and heals with its rich understanding of the human spirit. 
Springsteen Sundays is a weekly column devoted to exploring the world of Bruce Springsteen and the E-Street Band.  It appears here each and every Sunday.