Discover more from The Weekly Stuff Wordcast
Writing about Movie, Games, TV & more!
The Best Films of 2015, Part 2: #20 - #11 includes vampires, robots, journalists and spies
Three days ago, I published my Top 10 Films of 2015 list; two days ago, I followed that up with a piece about my ballot in the Denver Film Critics Society nominations; and yesterday, those nominations were announced in full. Now, to round off my own retrospective of the best in film from 2015, I have one last customary piece, counting down the ten runners-up from my Top 10 list, along with some extra honorable mentions. 
As always, this second-ten list is chock full of greatness, and in many ways, I like this line-up just as much as the main list. What this runners-up countdown emphasizes, for me, is just what a strange year it was for 2015 in film, the great movies coming from all corners and all genres and in all sorts of styles, the top films from this particular countdown ranging from classical drama to wild mockumentary to razor-sharp science-fiction with a lunatic edge. It was a good year for movies, and I'd recommend all of these films just as strongly as the titles on the main countdown.
So without further ado, here are The Best Films of 2015, part 2, coming up after the jump…

20. Sicario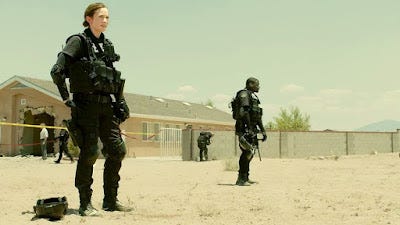 Denis Villeneuve is quickly proving himself to be one of the world's most technically adept filmmakers, and in many ways, Sicario is his biggest achievement to date, a stunningly constructed feature that contains two or three of the most tensely constructed real-world thriller sequences you'll see this side of Kathryn Bigelow. Emily Blunt makes for an excellent lead, Josh Brolin hasn't been used this well in a while, and Benicio del Toro gives one of the year's best performances as the sinister enigma at the heart of the story. But the real star of the show is Roger Deakins, one of our two or three best living cinematographers, who here turns in some of his best work to date – and some of the best digital photography ever conceived, period – capturing the sometimes breathtaking, sometimes sinister beauty of the southern United States and Mexico. I wish the film left a bigger emotional impact on me, honestly, for although I completely understand the commitment to darkness given the subject matter, the film lacks a strong character or emotional core I think help to propel similar works like Zero Dark Thirty, or even Villeneuve's last big critical hit, Prisoners. So that's why this one winds up a little lower on the list for me than some films that are probably less technically striking or more narratively imperfect. And in all honestly, Villeneuve is still a relatively new filmmaker, his collaboration with Deakins still in its honeymoon phase, and if nothing else, Sicario gives me the feeling the pair of them are just warming up. There's no other filmmaking team, for instance, that could fill me with excitement for an unnecessary Blade Runner sequel, but if Villeneuve and Deakins are teaming up to tackle it? Sign me up.
Sicario is now available on DVD and Blu-ray.
19. Crimson Peak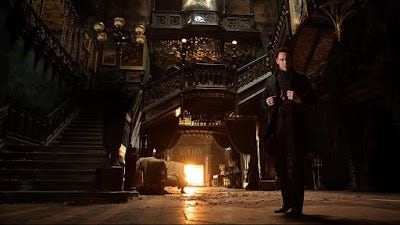 A slow, old-school gothic romance through and through, Crimson Peak is one of those films so incredibly off-brand for any major studio in 2015 to produce, it's honestly hard to imagine how this ever got off the ground in Hollywood. It happens Guillermo del Toro is something of a magician, of course, and if nothing else, it's an absolute joy to watch his passion for gothic romance play out on such a lavish canvas. That the film happens to be a really good gothic romance story, one that shows an impossibly deep understanding for the genre but also goes beyond mere homage, is almost beside the point. There are simply few directors out there who imbue their films with as much passion or creativity as del Toro does, and if Crimson Peak isn't quite his most ambitious or artistically significant film, it is easily one of 2015's richest work. Just look at the performances being given by Tom Hiddleston and Jessica Chastain, or consider that great musical score by Fernando Velázquez, or take a look at any single frame of that glorious, gorgeous production design. Crimson Peak is practically overflowing with things to love, and the commonality among all of it is the creative passion of a director who, in many ways, feels like he's still just warming up.
Crimson Peak will be available on DVD and Blu-ray February 9th.
18. The Peanuts Movie
Speaking of films I can't believe got made in Hollywood this year, The Peanuts Movie is an animated gem that bucks nearly every awful trend common in American feature animation, all in the name of a source material that couldn't be less like modern children's entertainment. Peanuts done right is sort of like having a great therapy session, and getting to laugh an awful lot while you do it, but that's obviously not the recipe for family films these days. Thankfully, it absolutely is the recipe for The Peanuts Movie, which manages to bring Charlie Brown and his friends into 2015 without sacrificing a modicum of what made them special in the first place. The film is smart, funny, sweet, and earnest to its core, a gentler story than even many classic Peanuts cartoons, and I found myself smiling from start to finish. It's not one of 2015's most groundbreaking films (though the animation, which blends CGI with a very Schultz-esque hand-drawn aesthetic, is unlike anything I've ever seen), but it is absolutely one of the most satisfying, for viewers of all ages.  
The Peanuts Movie is now playing in theatres.
17. Bridge of Spies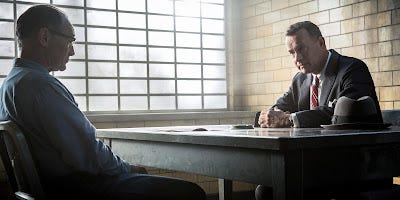 Spielberg can still turn out a dud here and there – I shudder at the thought of War Horse – but for the most part, he has been on fire the last few years, and Bridge of Spies is as sturdy and effective as any of his recent works, a terrific true story anchored by reliably magnetic work from Tom Hanks. If Frank Capra directed a Cold War-era spy movie, it would probably look something like this, a film filled with strong technical merits that comes by its overall sense of optimism through a rigorous development of character, story, and theme. Like most Spielberg films, it sails right by an obviously perfect ending, and there are a few moments that hit things a little too on the nose, but moment to moment, Bridge of Spies is an immense treat, one of the most enjoyable experiences I had in a theatre all year.
Bridge of Spies will be available on DVD and Blu-ray February 2nd.
16. Trainwreck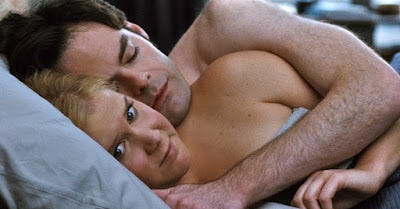 Just after Amy Schumer's Comedy Central sketch series, Inside Amy Schumer, had its best year to date, we got this remarkable cinematic comedy, written by and starring Schumer and directed by Judd Apatow, a film that doesn't reinvent the romantic comedy wheel but instead breathes new life into it by being honest and profane and painful and, in the end, pretty profoundly uplifting. This is the best work Apatow has ever done as a director – I like his other movies a lot, but this is a clear sign he should spend more time directing other writers' work – and the entire cast is fantastic – Bill Hader, Brie Larson, Tilda Swinton, Colin Quinn, and even LeBron James; the list just goes on and on – but the film belongs to Schumer, who has managed to translate her singular voice to the big screen without sacrificing any part of what makes her special, while simultaneously expanding her work's emotional canvas to unexpected new territory. By the time the end credits roll, I found I had been emotionally worked over in ways that went well beyond laughter – although there's plenty of that – and in the balance, I think this is one of 2015's major accomplishments all around.  
Trainwreck is now available on DVD and Blu-ray.
15. When Marnie Was There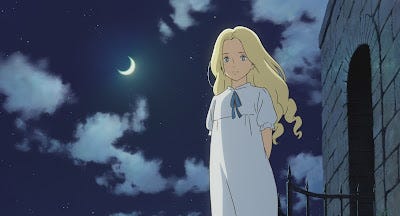 When Marnie Was There is potentially the last film we'll ever get from the great Studio Ghibli – subject of both my undergraduate and graduate Thesis projects, and general lifelong obsession – and the saddest thing about it is that, as the studio's first film without any direct involvement from founders Hayao Miyazaki and Isao Takahata, Marnie points towards a very real potential future for the studio. Oh well. We must take what we can get, and if Marnie is an unintentional swan song, it is at least a very, very good one, a smart, quiet, and nuanced character piece that positively aches with feeling. The ending may be a little arch and on the nose, but up until that point, this is a pretty stunning portrait of a young woman out of emotional balance, and of the miraculous chemistry that exists between two people when each needs the other so desperately. Gorgeously animated, and with a tone that feels true to Ghibli while being a little unlike anything they've done before, Marnie is the second straight home-run from the relatively young Hiromasa Yonebayshi, and if he doesn't have a future at Ghibli, I am absolutely positive he will make a major name for himself in the anime industry at large. His is the kind of imaginative, empathetic voice Ghibli was built upon, and if Marnie is indeed it for Ghibli's feature animation, it feels like an absolutely fitting closing note.
When Marnie Was There is now available on DVD and Blu-ray.
14. Spotlight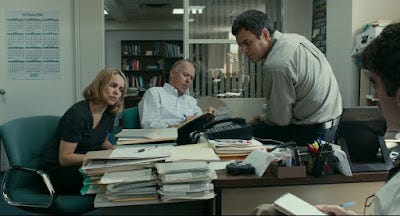 Tom McCarthy's ode to the waning glory days of true investigate journalism is so good, so confident and self-assured in its sense of pace and tone and narrative, that it's hard to know what to say about the film. The quality speaks for itself. This is the smart, restrained, nuanced version of a story that could so easily be brought down by the weight of potential histrionics, and if the film itself isn't all that outwardly emotive, it's hard to imagine it not provoking big emotional responses from virtually anyone who crosses its path. Michael Keaton, Rachel McAdams, Mark Ruffalo, Liev Schreiber, John Slattery, and many more make for one of the year's two finest ensembles (the other being The Hateful Eight), and the sharp, thoughtful photography by Masanobu Takayanagi makes the film far more aesthetically engaging than one might imagine this story being. It's one of the year's most flawlessly assembled films, and if there were some other titles I personally preferred more, there are very few I would say are technically 'better' than this one.
Spotlight is now playing in select theatres.
13. Ex Machina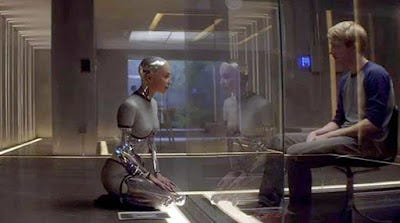 Alex Garland has written some very fine films – 28 Days Later, Sunshine, Dredd, etc. – but Ex Machina is the best script he's ever penned, and as a directorial debut, it's pretty stunningly adept. This is top-notch adult science-fiction, slow and smart and with an understated lunatic edge, acted to perfection by Domnhall Gleeson, Oscar Isaac, and especially Alicia Vikander – all of whom went on to have great all-around years in cinema – and executed with a remarkable amount of visual ingenuity and weight. It took Garland years to get to this point, but this feels like the first step towards even bigger and better things from him, and I get the feeling we're going to one day look back on Ex Machina as the opening salvo in a bold, exciting new phase of his career.  
Ex Machina is now available on DVD and Blu-ray.
12. Carol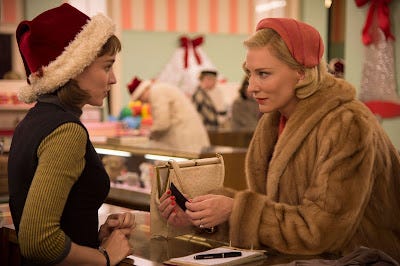 One of the most difficult omissions from the main list, Todd Haynes' Carol is simply one of the most exquisitely crafted films to come along this year, a beautifully written, deeply-felt adaptation of Patricia Highsmith's most personal novel. Rooney Mara has never been better than she is here, as a young woman unsure of herself and her desires, and I might even say the same for Cate Blanchett, who manages the high-wire act of portraying both the inscrutable object of desire and a fascinating, fleshed-out three-dimensional character at the same time. With those two performers, a gorgeous score from Carter Burwell, some utterly immersive production design, and especially Edward Lachman's glorious classical cinematography – of all the movies that shot on celluloid in 2015, there is no movie I would like to see projected on film more than Carol – this is a simply rapturous experience, one that is simply a joy to spend time with.
Carol is now playing in select theatres.
11. What We Do in the Shadows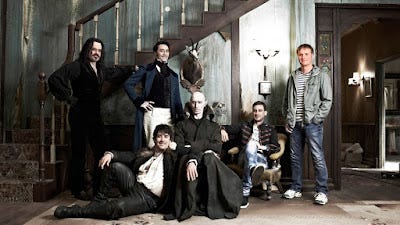 Pound for pound the funniest movie released in 2015, What We Do in the Shadows takes a simple, potentially stale idea – a found-footage/mockumentary look at vampires – and commits to the form and aesthetic so completely, and with such a tremendous sense of enthusiasm and invention, that it blows every other modern horror satire clean out of the water. Jemaine Clement and Taika Waititi do triple duty here as writers, directors, and stars, excelling in every one of their respective positions, and it is amazing to me just how strongly each and every character in the film comes across, even in the midst of a positively dense barrage of alternatingly mundane and madcap humor. This is a profoundly silly film with an amazingly big heart, one of 2015's most inspiring odes to creativity, and even if this couldn't be more different than a superhero movie, it isn't hard to figure out why Marvel would give Waititi the reins to Thor: Ragnarok after seeing this. Genuine voice and enthusiasm are not easy things to come by, and What We Do in the Shadows has both of them in spades.
What We Do in the Shadows is now available on DVD and Blu-ray.
Continue the countdown with my Top 10 Films of 2015 list, counting down #10 to #1.
Honorable Mentions (in alphabetical order): Black Mass, Furious 7, Going Clear: Scientology and the Prison of Belief, Kingsman: The Secret Service, The Martian, Mission Impossible: Rogue Nation, Steve Jobs: The Man in the Machine
Follow author Jonathan Lack on Twitter @JonathanLack.