Discover more from The Weekly Stuff Wordcast
Writing about Movie, Games, TV & more!
The Weekly Stuff #281 – Super Dragon Ball Heroes, Anthem Woes, DBZ 30th Blu-ray, Gaming Controversies & More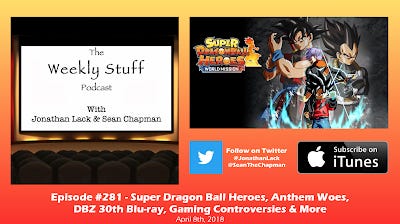 It's time for another episode of The Weekly Stuff Podcast with Jonathan Lack & Sean Chapman, a weekly audio show that explores the worlds of film, television, and video games. You can subscribe for free in iTunes by following this link. 
It's a packed show this week, as we give impressions of Super Dragon Ball Heroes: World Mission, the first English localization of the Japanese card battle sensation, discuss Kotaku's bombshell report on the troubled development of Bioware's Anthem, break down all the problems with Funimation's dubious new Dragon Ball Z 30thAnniversary Blu-ray set, and weigh in on the very stupid controversies currently miring the video game discourse – namely, whether games like Sekiro should have difficulty options, and what effect the Epic Games Store is having on the PC market. We also reach peak bafflement in our ongoing confusion over the existence and content of the musical Cats, go over some strange Nintendo rumors, and much more. 
Enjoy! 
Time Chart:
Intro: 0:00:00 – 0:05:31
Stuff: 0:05:31 – 0:19:00
Dragon Ball Heroes: 0:19:00 – 0:50:53
Anthem News: 0:50:53 – 1:26:17
Other News: 1:26:17 – 2:00:01
Dragon Ball News: 2:00:01 – 2:28:12
Video Game Controversies: 2:28:12 – 3:12:30 
Stream The Weekly Stuff Podcast Episode #281


Download 'The Weekly Stuff' Episode #281 as an MP3
Subscribe to our YouTube Channel!
Subscribe for free to 'The Weekly Stuff' in iTunes!
Follow Jonathan Lack on Twitter!
Follow Sean Chapman on Twitter!
The Weekly Stuff with Jonathan Lack & Sean Chapmanis a weekly audio podcast, and if you subscribe in iTunes, episodes will be delivered automatically and for free as soon as they are released. If you visit www.jonathanlack.com, we also have streaming and downloadable versions of new and archival episodes for your listening pleasure.