Discover more from The Weekly Stuff Wordcast
Writing about Movie, Games, TV & more!
The Weekly Stuff #329 – Ghost of Tsushima, Unreal Engine 5, and Knuckles Raps Jamboree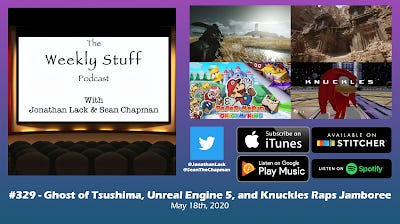 It's time for another episode of The Weekly Stuff Podcast with Jonathan Lack & Sean Chapman, a weekly audio show that explores the worlds of film, television, and video games. You can subscribe for free in iTunes by following this link. 
It's a jam-packed episode this week, as we're joined by Jonathan's brother Thomas, fresh off an entire year spent in Japan, to discuss a week's worth of news, a whole lotta stuff, and a very silly surprise topic at the end. First, we talk a bit more about Jonathan watching Star Wars: The Clone Wars, and take a look back at the original Genndy Tartakovsky's original Clone Wars from 2003. We also give updates on some games we're playing, including the new Hatsune Miku for Switch, before diving into the news, which brought us announcements for Paper Mario: The Origami King and a Tony Hawk's Pro Skater remake, in addition to a big 20-minute display of Sony's upcoming samurai game Ghost of Tsushima, which looks incredible, and Epic's unveiling of Unreal Engine 5 with an insanely impressive tech demo. And finally, Thomas a lifelong Sonic the Hedgehog fan, invites us to discuss one of the stranger corners of the Sonic universe by doing live readings and ranking all the 'Knuckles Raps' from the Sonic Adventure games (we promise it'll make more sense when you listen to the full episode). 
Enjoy!
Time Chart:
Intro: 0:00:00 – 0:08:57
Stuff: 0:08:57 – 0:58:48
News: 0:58:48 – 1:41:15
Thomas Talks Japan: 1:41:15 – 2:00:31
Knuckles Raps Surprise Topic: 2:00:31 – 2:44:18
Stream The Weekly Stuff Podcast Episode #329


Download 'The Weekly Stuff' Episode #329 as an MP3
Subscribe to The Weekly Stuff Wordcast Newsletter!
Subscribe to our YouTube Channel!
Subscribe for free to 'The Weekly Stuff' in iTunes!
Follow Jonathan Lack on Twitter!
Follow Sean Chapman on Twitter!
The Weekly Stuff with Jonathan Lack & Sean Chapman is a weekly audio podcast, and if you subscribe in iTunes, episodes will be delivered automatically and for free as soon as they are released. If you visit www.jonathanlack.com, we also have streaming and downloadable versions of new and archival episodes for your listening pleasure.