Discover more from The Weekly Stuff Wordcast
Writing about Movie, Games, TV & more!
The Weekly Stuff #344 – Marvel's Avengers Review, Xbox Series S, Mario 35 Nintendo Direct, and more!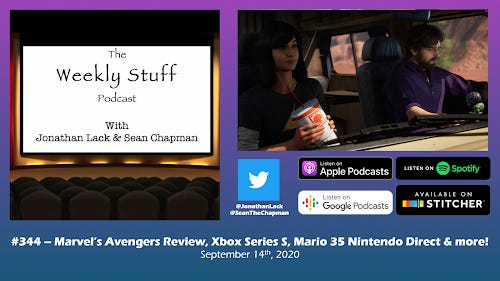 It's time for another episode of The Weekly Stuff Podcast with Jonathan Lack & Sean Chapman, a weekly audio show that explores the worlds of film, television, and video games. You can subscribe for free in iTunes by following this link.
It's been a big couple of weeks for video game news, from Nintendo unveiling all their plans for Mario's 35th anniversary to Xbox (finally!) unveiling the Series S and their next-gen launch dates and pricing, to another round of announcements from Ubisoft. We break down all of that and more, including a check-in on the state of movie releases in the US for the rest of 2020. Before all that, we also check in on how life is going amidst the ongoing pandemic chaos, Sean reviews the latest DLC for Control, and we talk at length about Marvel's Avengers, the wildly imperfect but also surprisingly compelling superhero game that launched last week.
Enjoy!
Time Chart: 
Intro and Plaguecast: 0:00:00 – 0:25:08
Stuff: 0:25:08 – 0:47:13
Avengers Game: 0:47:13 – 1:30:50
News: 1:30:50 – 2:44:32
Stream The Weekly Stuff Podcast Episode #344
Download 'The Weekly Stuff' Episode #344 as an MP3
Subscribe to our YouTube Channel!
Subscribe for free to 'The Weekly Stuff' in iTunes!
Follow Jonathan Lack on Twitter!
Follow Sean Chapman on Twitter!
The Weekly Stuff with Jonathan Lack & Sean Chapman is a weekly audio podcast, and if you subscribe in iTunes, episodes will be delivered automatically and for free as soon as they are released. If you visit www.jonathanlack.com, we also have streaming and downloadable versions of new and archival episodes for your listening pleasure.