Discover more from The Weekly Stuff Wordcast
Writing about Movie, Games, TV & more!
The Weekly Stuff #384 - Mobile Suit Gundam: Hathaway Review & Discussion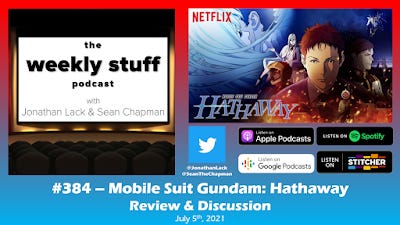 It's time for another episode of The Weekly Stuff Podcast with Jonathan Lack & Sean Chapman, a weekly audio show that explores the worlds of film, television, and video games. You can subscribe for free in Apple Podcasts or wherever you get your podcasts.
After a little back-and-forth on the week's stuff – including Jonathan finishing the outstanding Kimetsu no Yaiba (Demon Slayer) manga – and checking in on a few quick pieces of news, including Ghost of Tsushima getting a PS5 re-release in August, we dive straight into our latest Weekly Suit Gundam extravaganza with Mobile Suit Gundam: Hathaway. Premiering worldwide on Netflix this week after its debut in Japanese theaters last month, Hathaway is the first film in a planned trilogy adapting original Gundam creator Yoshiyuki Tomino's trio of novels from 1989-1990, following the exploits of Hathaway Noa 12 years after the events of Char's Counterattack. And it's a terrific start to this new film series, offering some of the best animation, music, set pieces, and writing in the history of the franchise. From Tomino's characteristically rich writing to the complex and nuanced vocal performances to how this story fits into the larger cycle of Tomino's original Gundam saga, Hathaway's Flash offers countless many rich avenues for discussion.
Enjoy!
Time Chart:
Intro & Stuff: 0:00:00 – 0:26:26
News: 0:26:26 – 0:35:55
Gundam – Hathaway: 0:35:55 – 3:05:20
Stream The Weekly Stuff Podcast Episode #384
Subscribe to our YouTube Channel!
Subscribe to the WEEKLY SUIT GUNDAM Podcast!
Subscribe for free to 'The Weekly Stuff' in Apple Podcasts!
Follow Jonathan Lack on Twitter!
Follow Sean Chapman on Twitter!
The Weekly Stuff with Jonathan Lack & Sean Chapman is a weekly audio podcast, and if you subscribe on Apple Podcasts or wherever you get your podcasts, episodes will be delivered automatically and for free as soon as they are released. Visit www.weeklystuffpodcast.com for a complete archive of streaming and downloadable episodes.