Discover more from The Weekly Stuff Wordcast
Writing about Movie, Games, TV & more!
The Weekly Stuff Bonus #8 – Doctor Who: Ghost Light (Story 154, 1989)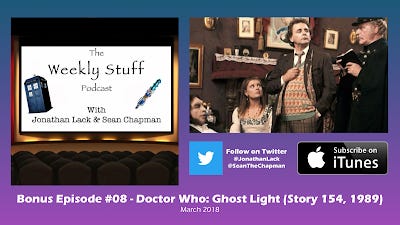 It's time for another monthly bonus episode of The Weekly Stuff Podcast with Jonathan Lack & Sean Chapman, where we will be discussing serials from classic Doctor Who history.
This month, our journey through classic Doctor Who reaches a culmination point, as we drop in on the original series' excellent final creative push, with the run of Sylvester McCoy's wonderful Seventh Doctor and his delightfully loony antepenultimate story "Ghost Light." One of the strangest, densest, and most compelling Doctor Who stories ever told, "Ghost Light" sees every member of the creative staff going down swinging in the last season of the original run, particularly showcasing McCoy's very unique take on the character and Sophie Aldred's all-time great companion Ace. This is an overlooked classic, and a great way to complete our 8-month-long journey through the show's original 26-year run.
Stream 'The Weekly Stuff' Bonus #08: 


Download 'The Weekly Stuff' Bonus  #08 as an MP3
Subscribe to our YouTube Channel!
Subscribe for free to 'The Weekly Stuff' in iTunes!
Follow Jonathan Lack on Twitter!