Discover more from The Weekly Stuff Wordcast
Writing about Movie, Games, TV & more!
The Weekly Stuff Episode #137 - Grab Bag! Game Stories, Civil War Trailer, Indiana Jones 5, PS4.5 Rumors, & much more!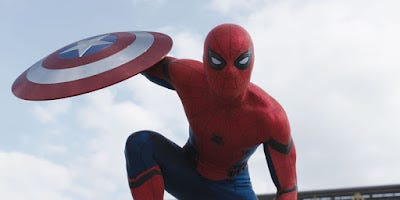 It's time for another episode of The Weekly Stuff Podcast with Jonathan Lack & Sean Chapman, a weekly audio show that explores the worlds of film, television, and video games. You can subscribe for free in iTunes by following this link.
To make up for our absence this week, we have two – count 'em, two – full-length podcasts coming your way this week, with Episode #137 today, and Episode #138 on Wednesday. In this first episode, we dip into a giant grab bag of news and stories, as Jonathan recounts his adventures catching up on Uncharted 2, his first experiences with Pokken Tournament on the Wii U, his love for the Bravely Second demo on 3DS, and a decade-in-the-making mea culpa for Nintendo after an unfortunate accident with a Wiimote. Sean continues to talk about Digimon Story Cybersleuth, and after discussing some recent movies and TV shows, we both move on to dissecting the new trailer for Captain America: Civil War, the announcement of Indiana Jones 5, and the can of worms opened by the reports that Sony is developing an upgraded version of the PlayStation 4, unofficially named the PS4.5.
Enjoy, and join us on Wednesday when we prepare for the release of Batman v Superman: Dawn of Justice in a big episode where we count down every single theatrical Batman and Superman, and then try to predict the plot, scene by scene, of the new movie. It's a fun one.
TIME CHART:
Intro: 0:00:00 – 0:03:37
Jonathan's Game Stories: 0:03:37 – 0:26:20
Sean's Game Stories: 0:26:20 – 0:41:29
TV Chat (Supergirl and Daredevil): 0:41:29 – 0:52:11
Movie Chat (The Witch, 10 Cloverfield Lane, Zootopia): 0:52:11 – 1:13:12
Civil War Trailer & Superhero Chat: 1:13:12 – 1:34:22
Indiana Jones 5 Announcement: 1:34:22 – 1:44:00
PS VR & PS4.5 Reports: 1:44:00 – 2:09:05


Download and Stream 'The Weekly Stuff' Episode #137 as an MP3


Subscribe for free to 'The Weekly Stuff' in iTunes!
Follow 'The Weekly Stuff' on Tumblr!
If you have questions, comments, or concerns about The Weekly Stuff, or would like to write in to the podcast to have your questions read on the show, please e-mail dinochow@jonathanlack.com.
The Weekly Stuff with Jonathan Lack & Sean Chapman is a weekly audio podcast, and if you subscribe in iTunes, episodes will be delivered automatically and for free as soon as they are released. If you visit www.jonathanlack.com, we also have streaming and downloadable versions of new and archival episodes for your listening pleasure.