Discover more from The Weekly Stuff Wordcast
Writing about Movie, Games, TV & more!
The Weekly Stuff Podcast #101 - Doctor Who Series 8 Finale Review & Retrospective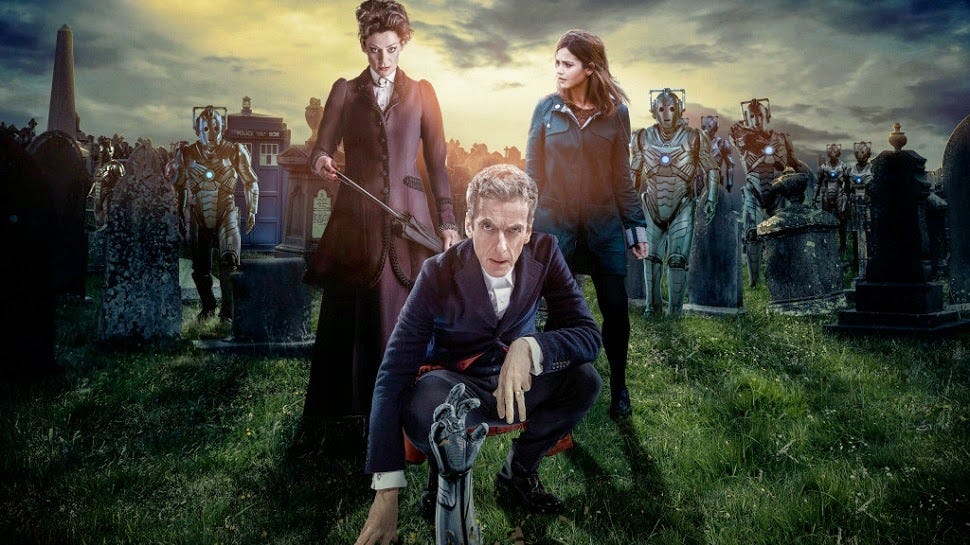 It's time for another episode of The Weekly Stuff Podcast with Jonathan Lack & Sean Chapman, a weekly audio show that explores the worlds of film, video gaming, and television. Remember to subscribe for free in iTunes by following this link!
Apologies, again, for the long delay – it's been a busy couple of weeks, but we are back with lots and lots of things to talk about, including Sean's review of Call of Duty: Advanced Warfare, a preview of upcoming video games both of us are interested in, and analysis of Marvel's ambitious Phase Three movie plans. I also mention some recent articles I have put up on the site, including an analysis of Christopher Nolan's Interstellar and a review of James Marsh's The Theory of Everything. Check them out.
But the main topic this week, as it must be, is Doctor Who Series 8, which wrapped up tonight with the season finale, "Death in Heaven." We offer our usual in-depth review of the finale, including thoughts on the previous two episodes – "In the Forest of the Night" and "Dark Water" – before transitioning into a discussion of the season as a whole. This year had a lot of fantastic episodes and character moments to offer, but now that we have seen the whole thing, did it work on the whole? It's our last time talking about this fascinating season of Doctor Who, a discussions fans won't want to miss.
Enjoy!  
Download and Stream 'The Weekly Stuff' Episode #101 as an MP3
Subscribe for free to 'The Weekly Stuff' in iTunes!
Follow 'The Weekly Stuff' RSS Feed Online!
If you have questions, comments, or concerns about The Weekly Stuff, or would like to write in to the podcast to have your questions read on the show, please e-mail dinochow@jonathanlack.com.
The Weekly Stuff with Jonathan Lack & Sean Chapman is a weekly audio podcast, and if you subscribe in iTunes, episodes will be delivered automatically and for free as soon as they are released. If you visit www.jonathanlack.com, we also have streaming and downloadable versions of new and archival episodes for your listening pleasure.