Discover more from The Weekly Stuff Wordcast
Writing about Movie, Games, TV & more!
The Weekly Stuff Podcast #115 - Doctor Who Series 9 Premiere & Destiny: The Taken King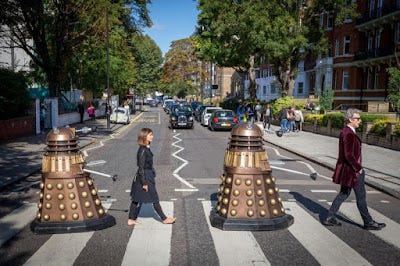 It's time for another episode of The Weekly Stuff Podcast with Jonathan Lack & Sean Chapman, a weekly audio show that explores the worlds of film, television, and video games. You can subscribe for free in iTunes by following this link.

Doctor Who is back! Doctor Who is back! It's finally back! Doctor Who is back!
Ahem.
If you've been listening to this show for any length of time, you'll know that Doctor Who is one of our two primary obsessions here. That means this is a pretty great week for the podcast, as not only did Doctor Who return for its ninth (modern) series on the BBC, but the Persona series – the object of our other primary obsession – was shown off at the Tokyo Game Show, with a new preview – and new release window – for the upcoming Persona 5. So there is a lot of excitement and enthusiasm on this week's episode, and that's before we even factor in Destiny: The Taken King, a new expansion that is absolutely wonderful, and very exciting to talk about.
Enjoy, and come back next week as we continue to review the new season of Doctor Who!
This week's Super Mario Maker Courses:
Mushroom Mile – 3E3E-0000-0039-B683
Undertaker – EEB1-0000-0047-4398
Download and Stream 'The Weekly Stuff' Episode #115 as an MP3
Subscribe for free to 'The Weekly Stuff' in iTunes!
Follow 'The Weekly Stuff' RSS Feed Online!
If you have questions, comments, or concerns about The Weekly Stuff, or would like to write in to the podcast to have your questions read on the show, please e-mail dinochow@jonathanlack.com.
The Weekly Stuff with Jonathan Lack & Sean Chapman is a weekly audio podcast, and if you subscribe in iTunes, episodes will be delivered automatically and for free as soon as they are released. If you visit www.jonathanlack.com, we also have streaming and downloadable versions of new and archival episodes for your listening pleasure.