Discover more from The Weekly Stuff Wordcast
Writing about Movie, Games, TV & more!
The Weekly Stuff Podcast #117 - Persona 4: Dancing All Night, Movie Talk (The Martian & The Walk), and Doctor Who S9E3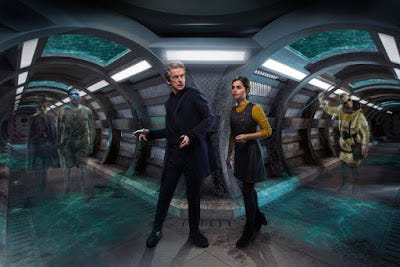 It's time for another episode of The Weekly Stuff Podcast with Jonathan Lack & Sean Chapman, a weekly audio show that explores the worlds of film, television, and video games. You can subscribe for free in iTunes by following this link.
This is a light, grab-bag style week on the podcast, as Sean gives his initial thoughts on Persona 4: Dancing All Night for the PS Vita, Jonathan talks about this weekend's new movies – including Ridley Scott's The Martian and Robert Zemeckis' The Walk – and both of us discuss the latest Doctor Who episode, "Under the Lake," which was excellent.
Unfortunately, there is a strange audio problem on this week's episode, which affects roughly thirty minutes of the show. All the content is still easy to hear, but for that stretch, there is an intermittent clicking noise that may prove mildly distracting. Again, it doesn't impact the content itself, but it's worth noting, and I might avoid listening to this one with headphones. We're recording on a new computer and I will have to run some tests to see if I can pinpoint the problem. Hopefully it was a one-time issue. It does end by the 45-minute mark, so thankfully, it does not effect the entire episode. Apologies for the inconvenience.
Otherwise, though…Enjoy!


Download and Stream 'The Weekly Stuff' Episode #117 as an MP3
Subscribe for free to 'The Weekly Stuff' in iTunes!
Follow 'The Weekly Stuff' on Tumblr!
If you have questions, comments, or concerns about The Weekly Stuff, or would like to write in to the podcast to have your questions read on the show, please e-mail dinochow@jonathanlack.com.
The Weekly Stuff with Jonathan Lack & Sean Chapman is a weekly audio podcast, and if you subscribe in iTunes, episodes will be delivered automatically and for free as soon as they are released. If you visit www.jonathanlack.com, we also have streaming and downloadable versions of new and archival episodes for your listening pleasure.