Discover more from The Weekly Stuff Wordcast
Writing about Movie, Games, TV & more!
The Weekly Stuff Podcast #118 - The State of Star Wars & Doctor Who S9E4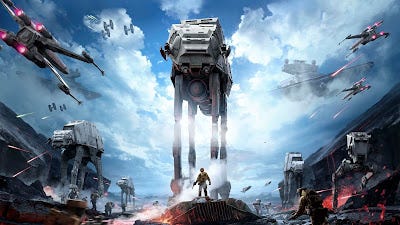 It's time for another episode of The Weekly Stuff Podcast with Jonathan Lack & Sean Chapman, a weekly audio show that explores the worlds of film, television, and video games. You can subscribe for free in iTunes by following this link.
In what should have been a light week, we somehow recorded for close to two hours, talking first about the Star Wars: Battlefront beta on PS4, which transitions into a discussion about the state of Star Wars as we approach The Force Awakens. The hype train is in full effect, but why does everyone seem to feel so generally apathetic towards the franchise these days? We explore that and other issues before jumping into a discussion of this week's Doctor Who, "Before the Flood," which continues the show's recent, entertaining hot streak. And finally, we discuss a longtime listener's Top 10 list of their favorite podcast episodes, which made for a nice, surreal trip down memory lane (Thanks to Kenny for that!).
Enjoy!



Download and Stream 'The Weekly Stuff' Episode #118 as an MP3
Subscribe for free to 'The Weekly Stuff' in iTunes!
Follow 'The Weekly Stuff' on Tumblr!
If you have questions, comments, or concerns about The Weekly Stuff, or would like to write in to the podcast to have your questions read on the show, please e-mail dinochow@jonathanlack.com.
The Weekly Stuff with Jonathan Lack & Sean Chapman is a weekly audio podcast, and if you subscribe in iTunes, episodes will be delivered automatically and for free as soon as they are released. If you visit www.jonathanlack.com, we also have streaming and downloadable versions of new and archival episodes for your listening pleasure.