Discover more from The Weekly Stuff Wordcast
Writing about Movie, Games, TV & more!
The Weekly Stuff Podcast #122 - Reviewing Spectre, Ranking all the James Bond movies, and Doctor Who S9E8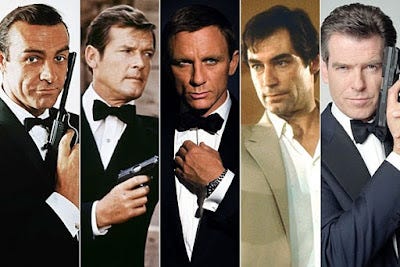 It's time for another episode of The Weekly Stuff Podcast with Jonathan Lack & Sean Chapman, a weekly audio show that explores the worlds of film, television, and video games. You can subscribe for free in iTunes by following this link.
As if yet another tremendous episode of Doctor Who wasn't enough to celebrate, this week, we get to rejoice over the release of the latest James Bond movie, Spectre! Well, sort of. The movie wasn't that good. We talk about it. But, because there's a new 007 movie, I undertook the insane task of ranking every James Bond movie, from worst to last, and we talk about all of them – all the highs, all the lows, and all the crazy space lasers. And then we do indeed get to talk about "The Zygon Inversion," a potentially all-time great episode of Doctor Who. It's a good week indeed.
Enjoy…

Note: There is a small audio issue for about twenty minutes during this episode, in which there is a recurring clicking sound. We had the same issue a few weeks ago. I thought I had it resolved, but apparently not – we'll be careful about it in the future. 
Download and Stream 'The Weekly Stuff' Episode #121 as an MP3
Subscribe for free to 'The Weekly Stuff' in iTunes!
Follow 'The Weekly Stuff' on Tumblr!
If you have questions, comments, or concerns about The Weekly Stuff, or would like to write in to the podcast to have your questions read on the show, please e-mail dinochow@jonathanlack.com.
The Weekly Stuff with Jonathan Lack & Sean Chapman is a weekly audio podcast, and if you subscribe in iTunes, episodes will be delivered automatically and for free as soon as they are released. If you visit www.jonathanlack.com, we also have streaming and downloadable versions of new and archival episodes for your listening pleasure.