Discover more from The Weekly Stuff Wordcast
Writing about Movie, Games, TV & more!
The Weekly Stuff Podcast #126 - Doctor Who Series 9 Farewell Spectacular!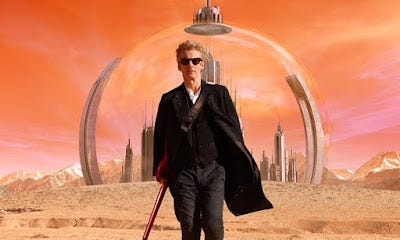 It's time for another episode of The Weekly Stuff Podcast with Jonathan Lack & Sean Chapman, a weekly audio show that explores the worlds of film, television, and video games. You can subscribe for free in iTunes by following this link.
The Doctor Who Series 9 finale obviously looms large over everything else this week, but we take some time at the top of the show to discuss a few other topics as well, including the hilariously atrocious new Batman v Superman trailer, news and happenings out of the Game Awards and PlayStation Experience, and finally, a full review (with spoilers!) of Netflix and Marvel's Jessica Jones.
But Doctor Who is the focus on this extra-long episode, as we break down the outstanding Series 9 finale, "Hell Bent," before looking back on Series 9 as a whole – ranking the episodes, thinking about favorite moments, saying farewell to departing companion Clara Oswald, and looking forward to the show's very promising future. This has been an all-time great season of television, and it has been a pleasure and an honor to get to cover it in so much depth these past 12 weeks.
Enjoy!
Time Chart:
Intro and Stuff: 0:00:00 – 0:44:50
Reviewing Marvel's Jessica Jones: 0:45:50 – 1:33:32
Doctor Who Series 9 Farewell Spectacular! 1:33:33 – 3:48:14


Download and Stream 'The Weekly Stuff' Episode #126 as an MP3
Subscribe for free to 'The Weekly Stuff' in iTunes!
Follow 'The Weekly Stuff' on Tumblr!
If you have questions, comments, or concerns about The Weekly Stuff, or would like to write in to the podcast to have your questions read on the show, please e-mail dinochow@jonathanlack.com.
The Weekly Stuff with Jonathan Lack & Sean Chapman is a weekly audio podcast, and if you subscribe in iTunes, episodes will be delivered automatically and for free as soon as they are released. If you visit www.jonathanlack.com, we also have streaming and downloadable versions of new and archival episodes for your listening pleasure.