Discover more from The Weekly Stuff Wordcast
Writing about Movie, Games, TV & more!
The Weekly Stuff Podcast #129 - How I Spent my Winter Vacation: The Hateful Eight, Sherlock, Doctor Who Christmas, and more!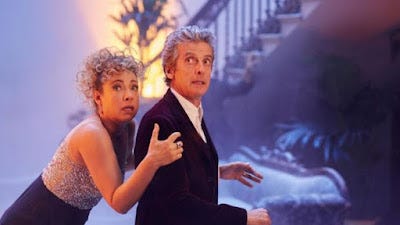 Welcome to another year of The Weekly Stuff Podcast with Jonathan Lack & Sean Chapman, a weekly audio show that explores the worlds of film, television, and video games. You can subscribe for free in iTunes by following this link.
We took a brief break over the holidays, recovering from what was a very eventful 2015, and now we are back with two new episodes, one of which is posting today, the second of which will be released this coming Monday, January 11th, to get us back on track for our normal Monday releases.
In this first episode back, Sean and I play catch-up and discuss everything we did over the holidays – from playing Final Fantasy XIV online, to catching up on TV Shows like The Flash, to seeing The Hateful Eight 70mm roadshow in theatres. Sean reviews the Sherlock special, "The Abominable Bride," and to round things off, we provide our customary review and discussion of the Doctor Who Christmas special, "The Husbands of River Song."
And come back Monday for the second-part, in which we look back at 2015 with our Top 10 TV Shows, Movies, and Video Games of the year!
Enjoy!


Download and Stream 'The Weekly Stuff' Episode #129 as an MP3
Subscribe for free to 'The Weekly Stuff' in iTunes!
Follow 'The Weekly Stuff' on Tumblr!
If you have questions, comments, or concerns about The Weekly Stuff, or would like to write in to the podcast to have your questions read on the show, please e-mail dinochow@jonathanlack.com.
The Weekly Stuff with Jonathan Lack & Sean Chapman is a weekly audio podcast, and if you subscribe in iTunes, episodes will be delivered automatically and for free as soon as they are released. If you visit www.jonathanlack.com, we also have streaming and downloadable versions of new and archival episodes for your listening pleasure.