Discover more from The Weekly Stuff Wordcast
Writing about Movie, Games, TV & more!
The Weekly Stuff Podcast #134 - Deadpool, Random Stuff, and Persona 3 The Movie #3 - Falling Down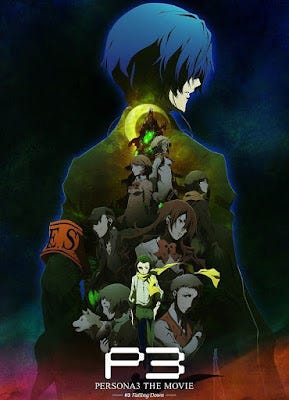 It's time for another episode of The Weekly Stuff Podcast with Jonathan Lack & Sean Chapman, a weekly audio show that explores the worlds of film, television, and video games. You can subscribe for free in iTunes by following this link.
It's time for our third-annual check-in on the ongoing film adaptation of our all-time favorite video game, Persona 3, as my imported Blu-ray of Persona 3 The Movie #3 – Falling Down is finally here, meaning we can offer our latest review of what has quickly become a can't-miss film series. We reviewed the first film on Episode 87, and the second film on Episode 107, and as enthusiastic as we were on those occasions, this latest installment may the most engaging one yet.
And fear not! If you're not a Persona fan – well, you should correct that. As soon as possible. But while you're preparing to do so, the first hour of this week's is entirely unrelated to Persona, as we talk about the unexpected success of Deadpool, discuss recent games we've been playing, check in on the latest Star Trek news and the newest Batman v Superman trailer, and get off on a whole lot of tangents, thus truly earning the word 'Stuff' in our name.
Enjoy!


Download and Stream 'The Weekly Stuff' Episode #134 as an MP3
Subscribe for free to 'The Weekly Stuff' in iTunes!
Follow 'The Weekly Stuff' on Tumblr!
If you have questions, comments, or concerns about The Weekly Stuff, or would like to write in to the podcast to have your questions read on the show, please e-mail dinochow@jonathanlack.com.
The Weekly Stuff with Jonathan Lack & Sean Chapman is a weekly audio podcast, and if you subscribe in iTunes, episodes will be delivered automatically and for free as soon as they are released. If you visit www.jonathanlack.com, we also have streaming and downloadable versions of new and archival episodes for your listening pleasure.