Discover more from The Weekly Stuff Wordcast
Writing about Movie, Games, TV & more!
The Weekly Stuff Podcast #145 – Persona 5 Trailer, Overwatch Beta, and Reviewing Captain America: Civil War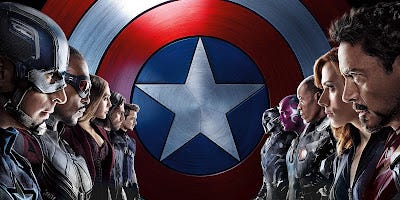 It's time for another episode of The Weekly Stuff Podcast with Jonathan Lack & Sean Chapman, a weekly audio show that explores the worlds of film, television, and video games. You can subscribe for free in iTunes by following this link.
In what is probably the longest episode we've ever recorded, we hit on a host of interesting recent topics – such as the open beta for Overwatch, news of Han Solo's casting in the upcoming Star Wars spin-off movie, and the newest trailer and Japanese release date for the highly anticipated Persona 5 – before diving into an in-depth review and discussion of Captain America: Civil War. We both agree this is the finest hour of the Marvel Cinematic Universe to date, but just what makes this movie so wildly impressive, so moving from a thematic and emotional standpoint and awe-inspiring in its visuals and staging? This is a dense, complicated, incredibly rewarding movie, and while our discussion might be long, it's one of the best we've ever had devoted to a single movie.
Enjoy, and come back next week as we review the upcoming Uncharted 4: A Thief's End.  
Download and Stream 'The Weekly Stuff'Episode #145 as an MP3
Subscribe for free to 'The Weekly Stuff' in iTunes!
Follow 'The Weekly Stuff' on Tumblr!
If you have questions, comments, or concerns about The Weekly Stuff, or would like to write in to the podcast to have your questions read on the show, please e-mail dinochow@jonathanlack.com.
The Weekly Stuff with Jonathan Lack & Sean Chapman is a weekly audio podcast, and if you subscribe in iTunes, episodes will be delivered automatically and for free as soon as they are released. If you visit www.jonathanlack.com, we also have streaming and downloadable versions of new and archival episodes for your listening pleasure.