Discover more from The Weekly Stuff Wordcast
Writing about Movie, Games, TV & more!
The Weekly Stuff Podcast #152 - Reviewing 'Inside,' Talking Pokemon Go, and Celebrating Star Trek's 50th Anniversary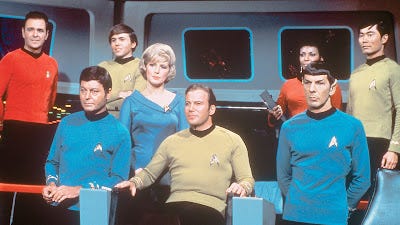 It's time for another episode of The Weekly Stuff Podcast with Jonathan Lack & Sean Chapman, a weekly audio show that explores the worlds of film, television, and video games. You can subscribe for free in iTunes by following this link.
We're back with a jam-packed episode, as Sean and I offer some thoughts on recent games like Lego Star Wars: The Force Awakens, or games that are just new to us, like Dishonored, while Jonathan recounts his continued adventures re-watching all of Dragon Ball Z. Later, we try to get our heads around the unprecedented phenomenon that is Pokemon Go, and offer a spoiler-filled review and discussion of Playdead's outstanding indie game Inside. And finally, with a new Star Trek film upon us and the franchise's 50th anniversary being marked this year, we offer a Star Trek retrospective, discussing our favorite things about the TV series before counting down all 12 theatrical films from worst to best.
Enjoy!
Download and Stream 'The Weekly Stuff' Episode #152 as an MP3
Subscribe for free to 'The Weekly Stuff' in iTunes!
Follow 'The Weekly Stuff' on Tumblr!
Follow Jonathan Lack on Twitter!
Follow Sean Chapman on Twitter!
The Weekly Stuff with Jonathan Lack & Sean Chapman is a weekly audio podcast, and if you subscribe in iTunes, episodes will be delivered automatically and for free as soon as they are released. If you visit www.jonathanlack.com, we also have streaming and downloadable versions of new and archival episodes for your listening pleasure.