Discover more from The Weekly Stuff Wordcast
Writing about Movie, Games, TV & more!
The Weekly Stuff Podcast #153 – Comic-Con News Round-up, Ghostbusters, and Star Trek Beyond Review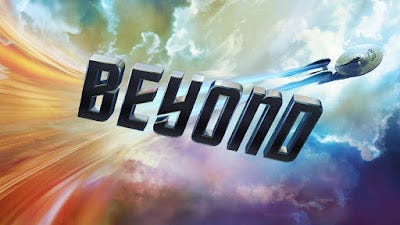 It's time for another episode of The Weekly Stuff Podcast with Jonathan Lack & Sean Chapman, a weekly audio show that explores the worlds of film, television, and video games. You can subscribe for free in iTunes by following this link.
In the first of two podcasts this week, we break down a bunch of news out of Comic-Con – including announcements and trailers from Marvel and DC – and Jonathan offers some thoughts on the new Ghostbusters movie (it's great!) and the new PS4 JRPG, I am Setsuna (it's also great!). Then, for our main topic, we review this weekend's major new release, Star Trek Beyond, a strong return to form after the franchise went a little off the rails with Star Trek Into Darkness.
Enjoy, and come back on Wednesday as we prepare for the release of Jason Bourne with a retrospective of the original Bourne trilogy!
Time Chart:
Intro: 0:00:00 – 0:04:15
Jonathan talks Ghostbusters: 0:04:15 – 0:16:21
Sean talks Godzilla: 0:16:21 – 0:20:10
Jonathan talks I am Setsuna: 0:20:10 – 0:34:08
Comic-Con News: 0:34:08 – 1:26:00
Star Trek Beyond: 1:26:00 – 2:02:18
Download and Stream 'The Weekly Stuff' Episode #153 as an MP3
Subscribe for free to 'The Weekly Stuff' in iTunes!
Follow 'The Weekly Stuff' on Tumblr!
Follow Jonathan Lack on Twitter!
Follow Sean Chapman on Twitter!
The Weekly Stuff with Jonathan Lack & Sean Chapman is a weekly audio podcast, and if you subscribe in iTunes, episodes will be delivered automatically and for free as soon as they are released. If you visit www.jonathanlack.com, we also have streaming and downloadable versions of new and archival episodes for your listening pleasure.