Discover more from The Weekly Stuff Wordcast
Writing about Movie, Games, TV & more!
The Weekly Stuff Podcast #165 - We Need To Talk About America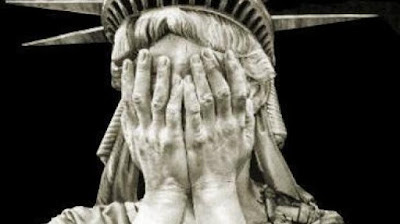 It's time for another episode of The Weekly Stuff Podcast with Jonathan Lack & Sean Chapman, a weekly audio show that explores the worlds of film, television, and video games. You can subscribe for free in iTunes by following this link.
Well, here is an episode we never expected to record.
But then again, we never expected our country to elect a racist, misogynist, fascist reality TV star as President. The world has been deeply shaken by what happened this week, and while this is not a political or current events podcast – and will not transform into one – Sean and I felt we could not ignore what just happened on our first episode back.
So on this week's episode, we talk about it. We talk about the election, how it makes us feel, why we are scared, and what we are doing to cope. We talk through it all because we needed to get it off our chests – and at the end, we try to find some hope by discussing things we're thankful for and things we're looking forward to, both big and small.
We will be back again on Monday to our normal schedule, with another episode (already recorded) in which we discuss Doctor Strange, Hitman Episode 6, and much more. But for now, in this special episode, we need to talk about America.
Stream The Weekly Stuff Podcast Episode #165


Download 'The Weekly Stuff' Episode #165 as an MP3
Subscribe for free to 'The Weekly Stuff' in iTunes!
Follow 'The Weekly Stuff' on Tumblr!
Follow Jonathan Lack on Twitter!
Follow Sean Chapman on Twitter!
The Weekly Stuff with Jonathan Lack & Sean Chapman is a weekly audio podcast, and if you subscribe in iTunes, episodes will be delivered automatically and for free as soon as they are released. If you visit www.jonathanlack.com, we also have streaming and downloadable versions of new and archival episodes for your listening pleasure.