Discover more from The Weekly Stuff Wordcast
Writing about Movie, Games, TV & more!
The Weekly Stuff Podcast #167 – November Game Review Extravaganza! Pokemon, Call of Duty, Titanfall, Dishonored, & More!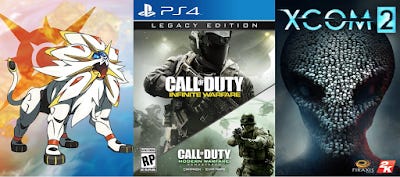 It's time for another episode of The Weekly Stuff Podcast with Jonathan Lack & Sean Chapman, a weekly audio show that explores the worlds of film, television, and video games. You can subscribe for free in iTunes by following this link.
We're back from the Thanksgiving break with an absolutely packed, absurdly long episode in which we review no less than eight – count 'em, eight – new video games from the past two months. Going back and forth, Sean reviews Call of Duty Infinite Warfare, Dishonored 2, XCOM 2, and Titanfall 2, while Jonathan reviews Pokemon Sun and Moon, Dragon Ball Fusions, and gives more thoughts on Skyrim Special Edition, while both Jonathan and Sean tell more stories from the wonderful world of Hitman. Throw in some quick movie discussions – Arrival and Fantastic Beasts and Where to Find Them – and a slew of movie trailers to discuss and make fun of, and you have one of our longest episodes ever, clearing the deck for the busy final weeks of 2016.  
Enjoy!
TIME CHART:
Intro: 0:00:00 – 0:03:00
Jonathan talks Arrival, Fantastic Beasts, and Gilmore Girls: 0:03:00 – 0:29:15
Persona 5 Delay News: 0:29:15 – 0:36:10
Movie Trailer Round-up: 0:36:10 – 1:07:05
Call of Duty: Infinite Warfare Review: 1:07:05 – 1:25:19
Skyrim Special Edition Follow-up: 1:25:19 – 1:33:50
XCOM 2 Review: 1:33:50 – 1:52:39
Hitman Follow-up: 1:52:39 – 2:08:48
Dishonored 2 Review: 2:08:48 – 2:26:50
Dragon Ball Fusions Review: 2:26:50 – 2:54:34
Titanfall 2 Review: 2:54:34 – 3:14:55
Pokemon Sun and Moon Review: 3:14:55 – 3:45:23
Stream The Weekly Stuff Podcast Episode #167


Download 'The Weekly Stuff' Episode #167 as an MP3
Subscribe for free to 'The Weekly Stuff' in iTunes!
Follow 'The Weekly Stuff' on Tumblr!
Follow Jonathan Lack on Twitter!
Follow Sean Chapman on Twitter!
The Weekly Stuff with Jonathan Lack & Sean Chapman is a weekly audio podcast, and if you subscribe in iTunes, episodes will be delivered automatically and for free as soon as they are released. If you visit www.jonathanlack.com, we also have streaming and downloadable versions of new and archival episodes for your listening pleasure.