Discover more from The Weekly Stuff Wordcast
Writing about Movie, Games, TV & more!
The Weekly Stuff Podcast #168 – Final Fantasy XV Spoiler-Free Impressions, Plus Game Awards and PSX News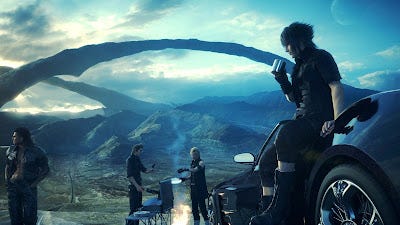 It's time for another episode of The Weekly Stuff Podcast with Jonathan Lack & Sean Chapman, a weekly audio show that explores the worlds of film, television, and video games. You can subscribe for free in iTunes by following this link.
On this week's show, we dive into a slew of trailers and announcements from two major gaming events of the past week – the Game Awards and the PlayStation Experience – breaking down everything from The Last of Us Part II announcement to the joyous insanity of Hideo Kojima's latest Death Stranding tease. And after the news, we give our spoiler-free first impressions of one of the year's biggest releases, Final Fantasy XV. It's been a long road to finally be playing this game – it was announced, as Final Fantasy Versus XIII, when Sean and I were in middle-school – and now that it's here, it's safe to say this is one of the most singular and unique games we have ever played. This chat is spoiler-free, and we'll be back next week to go more in-depth with the story, so feel free to listen if you haven't yet picked up the game.
Enjoy!
TIME CHART:
Intro: 0:00:00 – 0:10:03
Jonathan talks Mad Max: Fury Road – Black & Chrome Edition: 0:10:03 – 0:23:56
Game Awards and PSX News: 0:23:56 – 1:26:20
Final Fantasy XV: 1:26:20 – 3:09:15
Stream The Weekly Stuff Podcast Episode #168


Download 'The Weekly Stuff' Episode #168 as an MP3
Subscribe for free to 'The Weekly Stuff' in iTunes!
Follow 'The Weekly Stuff' on Tumblr!
Follow Jonathan Lack on Twitter!
Follow Sean Chapman on Twitter!
The Weekly Stuff with Jonathan Lack & Sean Chapman is a weekly audio podcast, and if you subscribe in iTunes, episodes will be delivered automatically and for free as soon as they are released. If you visit www.jonathanlack.com, we also have streaming and downloadable versions of new and archival episodes for your listening pleasure.