Discover more from The Weekly Stuff Wordcast
Writing about Movie, Games, TV & more!
The Weekly Stuff Podcast #169 – Final Fantasy XV Final Review & Analysis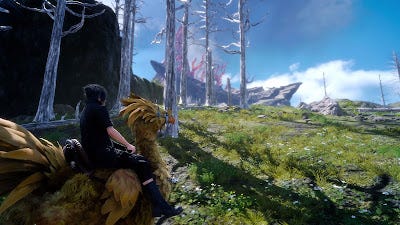 It's time for another episode of The Weekly Stuff Podcast with Jonathan Lack & Sean Chapman, a weekly audio show that explores the worlds of film, television, and video games. You can subscribe for free in iTunes by following this link.
This week, we talk about a few random topics – Jonathan complains about the packaging for Call of Duty: Infinite Warfare and extols the wonders of Terrence Malick's Voyage of Time – and cover some recent pieces of film and gaming news – including the trailer for Spider-Man Homecoming and recent reports about the Nintendo Switch – before diving into our final, full review and analysis of Final Fantasy XV. We talked in spoiler-free terms last week, largely about the open-world portion of the game, but now it's time to go in depth with the story, characters, and controversial second half. Jonathan loves it, but Sean has reservations – even though he can't stop playing it either. Spoilers abound, so if you plan on playing the game and don't want story revelations revealed, stick to last week's episode for now.
Enjoy!
Stream The Weekly Stuff Podcast Episode #169


Download 'The Weekly Stuff' Episode #169 as an MP3
Subscribe for free to 'The Weekly Stuff' in iTunes!
Follow 'The Weekly Stuff' on Tumblr!
Follow Jonathan Lack on Twitter!
Follow Sean Chapman on Twitter!
The Weekly Stuff with Jonathan Lack & Sean Chapman is a weekly audio podcast, and if you subscribe in iTunes, episodes will be delivered automatically and for free as soon as they are released. If you visit www.jonathanlack.com, we also have streaming and downloadable versions of new and archival episodes for your listening pleasure.