Discover more from The Weekly Stuff Wordcast
Writing about Movie, Games, TV & more!
The Weekly Stuff Podcast #172 – Holiday Stories, News Grab Bag, and Doctor Who & Sherlock Reviews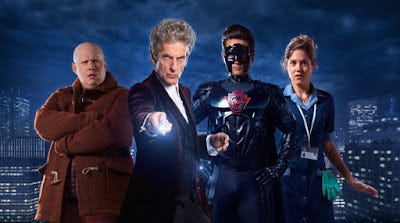 It's time for another episode of The Weekly Stuff Podcast with Jonathan Lack & Sean Chapman, a weekly audio show that explores the worlds of film, television, and video games. You can subscribe for free in iTunes by following this link.
For our first episode of the new year – our sixth year of the podcast – we begin with a grab bag of topics, from Sean's adventures with Dynasty Warriors 8 and a centuries-old Chinese novel, to Jonathan's return journey to Inaba replaying Persona 4. We discuss the tragic deaths of Carrie Fisher and Debbie Reynolds, as well as more frivolous news including new details on Mass Effect Andromeda and Showtime's Twin Peaks revival. And for our main topics, we give spoiler-filled reviews of the wonderful Doctor Who Christmas Special, "The Return of Doctor Mysterio," and the absolutely dreadful Sherlock season premiere, "The Six Thatchers."
Enjoy!
Stream The Weekly Stuff Podcast Episode #172


Download 'The Weekly Stuff' Episode #172 as an MP3
Subscribe for free to 'The Weekly Stuff' in iTunes!
Follow 'The Weekly Stuff' on Tumblr!
Follow Jonathan Lack on Twitter!
Follow Sean Chapman on Twitter!
The Weekly Stuff with Jonathan Lack & Sean Chapman is a weekly audio podcast, and if you subscribe in iTunes, episodes will be delivered automatically and for free as soon as they are released. If you visit www.jonathanlack.com, we also have streaming and downloadable versions of new and archival episodes for your listening pleasure.