Discover more from The Weekly Stuff Wordcast
Writing about Movie, Games, TV & more!
The Weekly Stuff Podcast #174 – Gravity Rush 2 Spoiler-Free Impressions & More!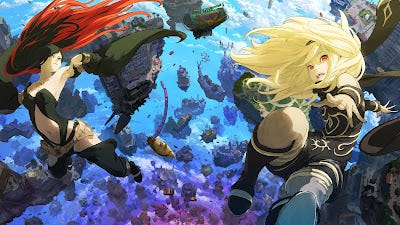 It's time for another episode of The Weekly Stuff Podcast with Jonathan Lack & Sean Chapman, a weekly audio show that explores the worlds of film, television, and video games. You can subscribe for free in iTunes by following this link.
This week, Sean and Jonathan try to move ahead talking about silly things despite the rapid fall of Western civilization, with updates on Jonathan's New Game Plus run of Persona 4 Golden, Sean's thoughts on 'something' and Westworld, and their reactions to two weeks worth of film and gaming news, including the death of the great John Hurt and more announcements from Nintendo. And for our main topic, we give spoiler-free impressions of the incredible Gravity Rush 2, out this month on PS4. As big fans of the original game, this sequel blew our expectations out of the water, and there is a lot to break down – with a lot left to talk about when do a more spoiler-filled discussion in the future.
Enjoy!
Time Chart
Intro: 0:00:00 – 0:09:16
Jonathan's adventures in Persona 4 Golden: 0:09:16 – 0:14:09
Sean and Jonathan talk Persona 5 and Final Fantasy XV soundtracks: 0:14:09 – 0:36:10
Sean talks Westworld: 0:36:10 – 0:44:10
News: 0:44:10 – 1:38:58
Gravity Rush 2 Impressions: 1:38:58 – 2:43:54
Stream The Weekly Stuff Podcast Episode #174


Download 'The Weekly Stuff' Episode #174 as an MP3
Subscribe for free to 'The Weekly Stuff' in iTunes!
Follow 'The Weekly Stuff' on Tumblr!
Follow Jonathan Lack on Twitter!
Follow Sean Chapman on Twitter!
The Weekly Stuff with Jonathan Lack & Sean Chapman is a weekly audio podcast, and if you subscribe in iTunes, episodes will be delivered automatically and for free as soon as they are released. If you visit www.jonathanlack.com, we also have streaming and downloadable versions of new and archival episodes for your listening pleasure.