Discover more from The Weekly Stuff Wordcast
Writing about Movie, Games, TV & more!
The Weekly Stuff Podcast #175 – Peter Capaldi's Doctor Who Departure & Wii U/3DS Retrospective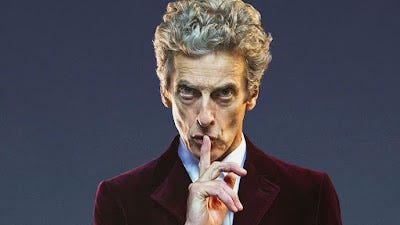 It's time for another episode of The Weekly Stuff Podcast with Jonathan Lack & Sean Chapman, a weekly audio show that explores the worlds of film, television, and video games. You can subscribe for free in iTunes by following this link.
This week brings us our first Doctor Who topic of the year – albeit not one we hoped to talk about for quite some time. 12th Doctor Peter Capaldi has elected to leave the show at the end of 2017, and as he's given us one of the greatest performances to ever grace the series, it's a real bummer, even as it makes the show's uncertain future more exciting than ever. We also talk a little bit more about Gravity Rush 2, Sean shares some thoughts on Yakuza 0 and Fire Emblem Heroes, and we talk some recent film and gaming news. And for our second topic, we do a mini-retrospective of Nintendo's Wii U, which ended production worldwide this week, and an even smaller retrospective of the 3DS, which is still going strong, as we prepare to welcome the Nintendo Switch next month.
Enjoy!
Stream The Weekly Stuff Podcast Episode #175


Download 'The Weekly Stuff' Episode #175 as an MP3
Subscribe for free to 'The Weekly Stuff' in iTunes!
Follow 'The Weekly Stuff' on Tumblr!
Follow Jonathan Lack on Twitter!
Follow Sean Chapman on Twitter!
The Weekly Stuff with Jonathan Lack & Sean Chapman is a weekly audio podcast, and if you subscribe in iTunes, episodes will be delivered automatically and for free as soon as they are released. If you visit www.jonathanlack.com, we also have streaming and downloadable versions of new and archival episodes for your listening pleasure.