Discover more from The Weekly Stuff Wordcast
Writing about Movie, Games, TV & more!
The Weekly Stuff Podcast #185 – Persona 5 Spoiler-Chat 3, Doctor Who S10E2 Review, and more!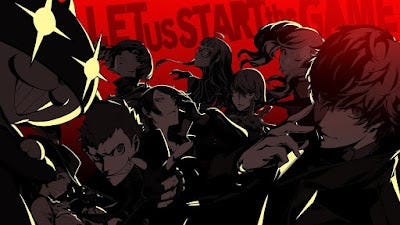 It's time for another episode of The Weekly Stuff Podcast with Jonathan Lack & Sean Chapman, a weekly audio show that explores the worlds of film, television, and video games. You can subscribe for free in iTunes by following this link.
Our adventures in the wonderful Persona 5 continue this week, as we offer our third spoiler-filled chat on the game, with thoughts and analysis on the fifth and sixth palaces/story arcs in the game (along with some responses to recent media kerfuffles over translation issues in the English release). Before that, though, we have several other topics, including our review of this week's Doctor Who, "Smile," and reactions to news on Call of Duty, Avatar, X-Men, and more.
Enjoy!
Time Chart:
Intro: 0:00:00 – 0:10:16
Stuff: 0:10:16 – 0:30:15
News: 0:30:15 – 1:03:35
Doctor Who: 1:03:35 – 1:31:48
Persona 5: 1:31:48 – 3:32:19
Stream The Weekly Stuff Podcast Episode #185


Download 'The Weekly Stuff' Episode #185 as an MP3
Subscribe for free to 'The Weekly Stuff' in iTunes!
Follow 'The Weekly Stuff' on Tumblr!
Follow Jonathan Lack on Twitter!
Follow Sean Chapman on Twitter!
The Weekly Stuff with Jonathan Lack & Sean Chapman is a weekly audio podcast, and if you subscribe in iTunes, episodes will be delivered automatically and for free as soon as they are released. If you visit www.jonathanlack.com, we also have streaming and downloadable versions of new and archival episodes for your listening pleasure.