Discover more from The Weekly Stuff Wordcast
Writing about Movie, Games, TV & more!
The Weekly Stuff Podcast #188 – Logan Noir, Hitman News, and Doctor Who S10E5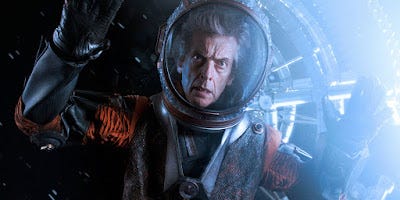 It's time for another episode of The Weekly Stuff Podcast with Jonathan Lack & Sean Chapman, a weekly audio show that explores the worlds of film, television, and video games. You can subscribe for free in iTunes by following this link.
It's a two-podcast (and slightly belated) week here on the show, as we're offering one episode today and another later this week. On today's show, we talk the new black-and-white version of Logan, 'Logan Noir', Sean continues his journey through ancient Chinese novel Romance of the Three Kingdoms, we break down the unfortunate news about Hitman developed IO Interactive, and most importantly, we dive into the latest episode of Doctor Who, "Oxygen." It's the best and most significant episode of the season so far, a season that, just five episodes in, has pretty firmly established itself as one of the modern show's best.
Enjoy, and join us again later this week for our long-awaited Twin Peaks retrospective podcast!
Stream The Weekly Stuff Podcast Episode #188


Download 'The Weekly Stuff' Episode #188 as an MP3
Subscribe for free to 'The Weekly Stuff' in iTunes!
Follow 'The Weekly Stuff' on Tumblr!
Follow Jonathan Lack on Twitter!
Follow Sean Chapman on Twitter!
The Weekly Stuff with Jonathan Lack & Sean Chapman is a weekly audio podcast, and if you subscribe in iTunes, episodes will be delivered automatically and for free as soon as they are released. If you visit www.jonathanlack.com, we also have streaming and downloadable versions of new and archival episodes for your listening pleasure.