Discover more from The Weekly Stuff Wordcast
Writing about Movie, Games, TV & more!
The Weekly Stuff Podcast #190 – Twin Peaks Returns, Doctor Who S10E6, Fire Emblem Echoes, and more!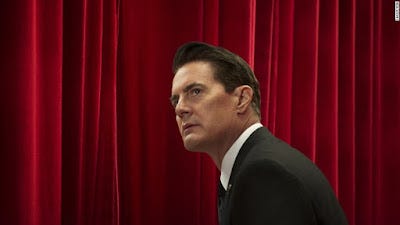 It's time for another episode of The Weekly Stuff Podcast with Jonathan Lack & Sean Chapman, a weekly audio show that explores the worlds of film, television, and video games. You can subscribe for free in iTunes by following this link.
It's a fun, busy week on the show, as we get to talk about a ton of interesting, weird stuff. First, Jonathan shares his thoughts on the new Alien Covenant and the Alien franchise in general. Then, Jonathan and Sean dive into the week's news, including the gameplay reveal of Destiny 2, Universal's inexplicable unveiling of the so-called 'Dark Universe,' and more. For our main topics, Jonathan gives his first impressions of Fire Emblem Echoes: Shadows of Valentia for the Nintendo 3DS, and we both rave about the latest, strangest episode of Doctor Who, "Extremis." And finally, we dive headfirst into the first four hours of Showtime's Twin Peaks revival, and all the wonderful, weird, wild, hilarious, and horrifying material creators David Lynch and Mark Frost have dished out for us. Spoilers abound, so be sure to see the episodes before listening!
Enjoy!
Time Chart:
Intro & Stuff: 0:00:00 – 0:11:03
Jonathan's Alien Adventures: 0:11:03 – 0:33:46
News: 0:33:46 – 0:59:09
Fire Emblem Echoes Impressions: 0:59:09 – 1:15:45
Doctor Who S10E6 Review: 1:15:45 – 1:50:15
Twin Peaks Review: 1:50:15 – 3:22:45
Stream The Weekly Stuff Podcast Episode #190


Download 'The Weekly Stuff' Episode #190 as an MP3
Subscribe for free to 'The Weekly Stuff' in iTunes!
Follow 'The Weekly Stuff' on Tumblr!
Follow Jonathan Lack on Twitter!
Follow Sean Chapman on Twitter!
The Weekly Stuff with Jonathan Lack & Sean Chapman is a weekly audio podcast, and if you subscribe in iTunes, episodes will be delivered automatically and for free as soon as they are released. If you visit www.jonathanlack.com, we also have streaming and downloadable versions of new and archival episodes for your listening pleasure.