Discover more from The Weekly Stuff Wordcast
Writing about Movie, Games, TV & more!
The Weekly Stuff Podcast #191 – Doctor Who S10E7, Fire Emblem Echoes, and Grab Bag Topics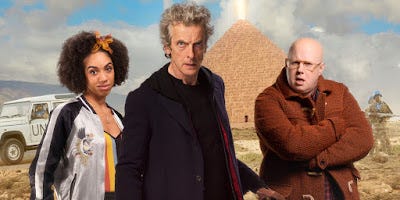 It's time for another episode of The Weekly Stuff Podcast with Jonathan Lack & Sean Chapman, a weekly audio show that explores the worlds of film, television, and video games. You can subscribe for free in iTunes by following this link.
In a slightly less busy week than usual here, we present our usual Doctor Who review in addition to a wide-ranging grab-bag of topics. From Jonathan's continued thoughts on Fire Emblem Echoes: Shadows of Valentia and the end of Supergirl Season 2, to Sean discussing the latest Mobile Suit Gundam anime, to a tribute to the late, great Roger Moore, to mocking the new Spider-Man Homecoming poster, and a brief tribute to Star Wars on its 40th anniversary, the show lives up to its name this week by tackling a whole lot of stuff. And that's before our weekly Doctor Who chat, in which we get to break down another entertaining, surprising, fascinating episode of a series working at the top of its game.  
Enjoy!
Time Chart:
Intro: 0:00:00 – 0:08:29
Fire Emblem Echoes Chat: 0:08:29 – 0:31:45
Jonathan talks Supergirl Season 2: 0:31:45 – 0:43:06
Sean talks Mobile Suit Gundam: Iron-Blooded Orphans: 0:43:06 – 0:55:32
News: 0:55:32 – 1:35:52
Doctor Who S10E7: 1:35:52 – 2:21:18
Stream The Weekly Stuff Podcast Episode #191


Download 'The Weekly Stuff' Episode #191 as an MP3
Subscribe for free to 'The Weekly Stuff' in iTunes!
Follow 'The Weekly Stuff' on Tumblr!
Follow Jonathan Lack on Twitter!
Follow Sean Chapman on Twitter!
The Weekly Stuff with Jonathan Lack & Sean Chapman is a weekly audio podcast, and if you subscribe in iTunes, episodes will be delivered automatically and for free as soon as they are released. If you visit www.jonathanlack.com, we also have streaming and downloadable versions of new and archival episodes for your listening pleasure.