Discover more from The Weekly Stuff Wordcast
Writing about Movie, Games, TV & more!
The Weekly Stuff Podcast #196 – Doctor Who Series 10 Finale Spectacular!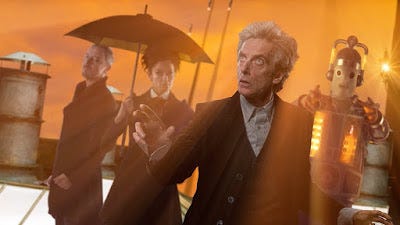 It's time for another episode of The Weekly Stuff Podcast with Jonathan Lack & Sean Chapman, a weekly audio show that explores the worlds of film, television, and video games. You can subscribe for free in iTunes by following this link.
It's an all Doctor Who all-the-time episode on the show this week, as this weekend saw the 10th series reach its dramatic conclusion with "The Doctor Falls," an episode that instantly enters the show's pantheon as an all-timer. On its own, the episode gave us plenty to talk about, but we also had to consider the hour in context of the season preceding it, discuss how well this season fared on the whole, think about where the show is going from here, and begin to close the book on this incredible Steven Moffat/Peter Capaldi era of the series. Doctor Who has always been and will always be one of our favorite topics, but it's been a particularly fun run with Moffat and Capaldi at the helm, and while there's still the Christmas special to go, "The Doctor Falls" made for one hell of a climax, more than worthy of devoting an entire podcast.
Enjoy!
Stream The Weekly Stuff Podcast Episode #196


Download 'The Weekly Stuff' Episode #196 as an MP3
Subscribe for free to 'The Weekly Stuff' in iTunes!
Follow 'The Weekly Stuff' on Tumblr!
Follow Jonathan Lack on Twitter!
Follow Sean Chapman on Twitter!
The Weekly Stuff with Jonathan Lack & Sean Chapman is a weekly audio podcast, and if you subscribe in iTunes, episodes will be delivered automatically and for free as soon as they are released. If you visit www.jonathanlack.com, we also have streaming and downloadable versions of new and archival episodes for your listening pleasure.