Discover more from The Weekly Stuff Wordcast
Writing about Movie, Games, TV & more!
The Weekly Stuff Podcast #203 – Nier Automata, Sonic Mania, Hellblade, Twin Peaks Part 14 & More!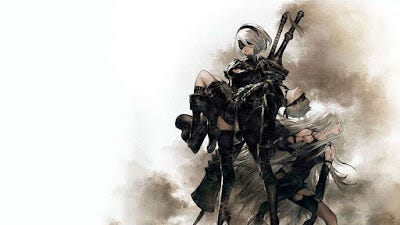 It's time for another episode of The Weekly Stuff Podcast with Jonathan Lack & Sean Chapman, a weekly audio show that explores the worlds of film, television, and video games. You can subscribe for free in iTunes by following this link.
It's a game review extravaganza on this week's show, as we give a short pre-review of the wonderful Sonic Mania (full thoughts coming next week!), Jonathan gives his take on the outstanding and harrowing Hellblade: Senua's Sacrifice from Ninja Theory, and we both dive into a belated spoiler-filled discussion of Nier: Automata, the game Jonathan foolishly complained about last week. We also, of course, discuss the latest episode of Twin Peaks: The Return, "Part 14," easily one of the best episodes of this amazing series. And at the top of the show, Sean reviews some new Godzilla Blu-rays while Jonathan gives some quick thoughts on the DuckTales reboot on Disney XD.
Enjoy, and join our Patreon today to get access to our first Bonus Podcast, where we talk about the classic Doctor Who story "The Aztecs!"
Time Chart:
Intro: 0:00:00 – 0:03:25
Stuff: 0:03:25 – 0:32:17
Sonic Mania: 0:32:17 – 0:44:12
Hellblade: Senua's Sacrifice: 0:44:12 – 0:58:08
Nier Automata: 0:58:08 – 2:01:25
Twin Peaks Part 14: 2:01:25 – 2:52:14
Stream The Weekly Stuff Podcast Episode #203


Download 'The Weekly Stuff' Episode #203 as an MP3
Join us on Patreon for great rewards, including Early Access!
Subscribe to our YouTube Channel!
Subscribe for free to 'The Weekly Stuff' in iTunes!
Follow Jonathan Lack on Twitter!
Follow Sean Chapman on Twitter!
The Weekly Stuff with Jonathan Lack & Sean Chapman is a weekly audio podcast, and if you subscribe in iTunes, episodes will be delivered automatically and for free as soon as they are released. If you visit www.jonathanlack.com, we also have streaming and downloadable versions of new and archival episodes for your listening pleasure.