Discover more from The Weekly Stuff Wordcast
Writing about Movie, Games, TV & more!
The Weekly Stuff Podcast #205 – Uncharted: The Lost Legacy, Mario + Rabbids, Twin Peaks Part 16 & More!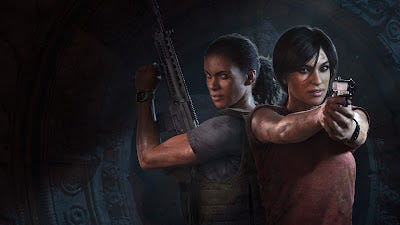 It's time for another episode of The Weekly Stuff Podcast with Jonathan Lack & Sean Chapman, a weekly audio show that explores the worlds of film, television, and video games. You can subscribe for free in iTunes by following this link.
We have two awesome topics to talk about this week, and that's on top of an opening hour where we give impressions of Mario + Rabbids Kingdom Battle for Nintendo Switch, give an update on the SNES Classic Preorder Debacle, and reflect on the state of Valve after the reveal of the ultimately unused Half-Life 2 Episode 3 plot synopsis. Those main topics are a spoiler-filled review of Uncharted: The Lost Legacy for the PS4, a 'bonus' Uncharted game so good it has us wishing Naughty Dog would keep making these until the end of time. And finally, we dive deep with the penultimate episode of Twin Peaks: The Return, "Part 16," which was a simply marvelous episode of television that, to paraphrase a certain character, "made our hearts so full."
Enjoy, and join our Patreon today to get access to Bonus Podcasts, Let's Play gaming videos, and more!  
Time Chart:
Intro: 0:00:00 – 0:06:00
Stuff, including Mario + Rabbids Impressions: 0:06:00 – 0:35:29
News: 0:35:29 – 1:15:50
Uncharted: The Lost Legacy: 1:15:50 – 2:12:48
Twin Peaks Part 16: 2:12:48 – 3:14:57
Stream The Weekly Stuff Podcast Episode #205


Download 'The Weekly Stuff' Episode #205 as an MP3
Join us on Patreon for great rewards, including Early Access!
Subscribe to our YouTube Channel!
Subscribe for free to 'The Weekly Stuff' in iTunes!
Follow Jonathan Lack on Twitter!
Follow Sean Chapman on Twitter!
The Weekly Stuff with Jonathan Lack & Sean Chapman is a weekly audio podcast, and if you subscribe in iTunes, episodes will be delivered automatically and for free as soon as they are released. If you visit www.jonathanlack.com, we also have streaming and downloadable versions of new and archival episodes for your listening pleasure.