Discover more from The Weekly Stuff Wordcast
Writing about Movie, Games, TV & more!
The Weekly Stuff Podcast #212 – Super Mario Odyssey, Wolfenstein II, Doctor Who News & More!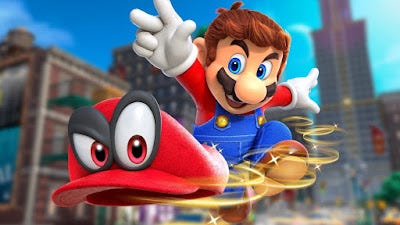 It's time for another episode of The Weekly Stuff Podcast with Jonathan Lack & Sean Chapman, a weekly audio show that explores the worlds of film, television, and video games. You can subscribe for free in iTunes by following this link.
This week saw some of the biggest video game releases of the year, and we review two of them on today's show, with Jonathan diving into the wonders of Super Mario Odyssey and Sean throwing hatchets at Nazi heads with Wolfenstein II: The New Colossus. Both reviews are more or less spoiler-free, unless you want to go in completely cold. Before those big topics, though, we also cover a week's worth of news, including a big cast announcement for the next season of Doctor Who, a bizarre Sonic Forces demo, and a follow-up to our thoughts on last week's news about Visceral and EA.
Enjoy!
Time Chart:
Intro: 0:00:00 – 0:04:28
Stuff: 0:04:28 – 0:16:40
News: 0:16:40 – 0:57:35
Wolfenstein II: 0:57:35 – 1:32:53
Super Mario Odyssey: 1:32:53 – 2:22:53
Stream The Weekly Stuff Podcast Episode #212


Download 'The Weekly Stuff' Episode #212 as an MP3
Subscribe to our YouTube Channel!
Subscribe for free to 'The Weekly Stuff' in iTunes!
Follow Jonathan Lack on Twitter!
Follow Sean Chapman on Twitter!
The Weekly Stuff with Jonathan Lack & Sean Chapman is a weekly audio podcast, and if you subscribe in iTunes, episodes will be delivered automatically and for free as soon as they are released. If you visit www.jonathanlack.com, we also have streaming and downloadable versions of new and archival episodes for your listening pleasure.