Discover more from The Weekly Stuff Wordcast
Writing about Movie, Games, TV & more!
The Weekly Stuff Podcast #214 – Thor Ragnarok, Mario Odyssey, Wolfenstein II, Sonic Forces & More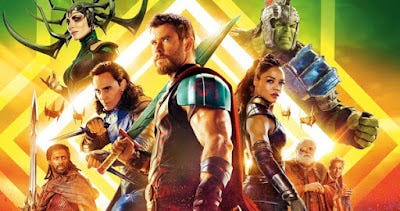 It's time for another episode of The Weekly Stuff Podcast with Jonathan Lack & Sean Chapman, a weekly audio show that explores the worlds of film, television, and video games. You can subscribe for free in iTunes by following this link.
In the second episode of the week, we offer a slate of reviews for recent games, giving final thoughts on Wolfenstein II and Super Mario Odyssey, while Sean waxes poetic about the magic of Hatsune Miku: Project DIVA Future Tone on the PS4 and Jonathan discusses the hollow shell of Sonic Forces. But for the main event, we dive into Thor Ragnarok, one of the very best Marvel films to date, devoting a full hour to discussing all the wonderful characters, colorful visuals, and surprisingly poignant themes of this excellent superhero adventure.
Enjoy!
Time Chart:
Intro: 0:00:00 – 0:01:35
Stuff: 0:01:35 – 0:14:05
Wolfenstein II: 0:14:05 – 0:21:12
Super Mario Odyssey: 0:21:12 – 0:26:48
Hatsune Miku Project DIVA Future Tone: 0:26:48 – 0:41:35
Sonic Forces: 0:41:35 – 0:56:28
Thor Ragnarok: 0:56:28 – 2:05:23
Stream The Weekly Stuff Podcast Episode #214


Download 'The Weekly Stuff' Episode #214 as an MP3
Subscribe to our YouTube Channel!
Subscribe for free to 'The Weekly Stuff' in iTunes!
Follow Jonathan Lack on Twitter!
Follow Sean Chapman on Twitter!
The Weekly Stuff with Jonathan Lack & Sean Chapman is a weekly audio podcast, and if you subscribe in iTunes, episodes will be delivered automatically and for free as soon as they are released. If you visit www.jonathanlack.com, we also have streaming and downloadable versions of new and archival episodes for your listening pleasure.