Discover more from The Weekly Stuff Wordcast
Writing about Movie, Games, TV & more!
The Weekly Stuff Podcast #215 - Justice League, Star Wars Battlefront II Debacle, and Remembering Hiromi Tsuru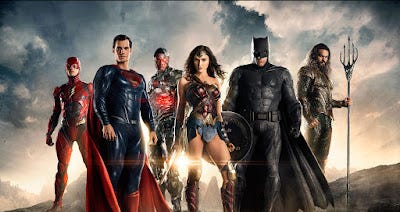 It's time for another episode of The Weekly Stuff Podcast with Jonathan Lack & Sean Chapman, a weekly audio show that explores the worlds of film, television, and video games. You can subscribe for free in iTunes by following this link.
The headline topic this week is DC's disastrously boring Justice League movie, an incomprehensible, empty shell of a movie we spend over an hour of today's show discussing in spoiler-rich detail. Suffice it to say, the film feels like the nail in the coffin for DC's 'shared universe' film plans, which we've been covering on the show for years. But we also discuss two of the week's big game releases – Skyrim on the Nintendo Switch and Pokemon Ultra Sun for the 3DS – and cover some major news items, including the ongoing debacle over EA's Star Wars Battlefront II lootbox controversy, and the passing of beloved Japanese voice actress Hiromi Tsuru, who voiced Bulma in Dragon Ball for over 30 years.
Enjoy!
Time Chart:
Intro: 0:00:00 – 0:02:58
Stuff, including Skyrim on Switch and Pokemon Ultra Sun: 0:02:58 – 0:19:28
News, including Hiromi Tsuru and Star Wars Battlefront II: 0:19:28 – 0:59:22
Justice League Review: 0:59:22 – 2:19:06
Stream The Weekly Stuff Podcast Episode #215


Download 'The Weekly Stuff' Episode #215 as an MP3
Subscribe to our YouTube Channel!
Subscribe for free to 'The Weekly Stuff' in iTunes!
Follow Jonathan Lack on Twitter!
Follow Sean Chapman on Twitter!
The Weekly Stuff with Jonathan Lack & Sean Chapman is a weekly audio podcast, and if you subscribe in iTunes, episodes will be delivered automatically and for free as soon as they are released. If you visit www.jonathanlack.com, we also have streaming and downloadable versions of new and archival episodes for your listening pleasure.