Discover more from The Weekly Stuff Wordcast
Writing about Movie, Games, TV & more!
The Weekly Stuff Podcast #216 – Assassin's Creed Origins, Xenoblade 2, Avengers Trailer, Doctor Who & More!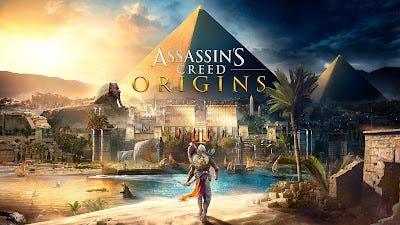 It's time for another episode of The Weekly Stuff Podcast with Jonathan Lack & Sean Chapman, a weekly audio show that explores the worlds of film, television, and video games. You can subscribe for free in iTunes by following this link.
We kick off the last month of this very busy year with a grab-bag style episode in which we review three games, discuss some recent news, swap Thanksgiving stories, and go off on a very long Doctor Who tangent. Before diving into our main topics, we talk about some recent movies and Sean shares his thoughts on recent episode of Dragon Ball Super, while we both gush over the new Avengers: Infinity War trailer and scratch our heads at some crazy news in the entertainment industry. For our main reviews, Jonathan gives his impressions on the first 7 or 8 hours of Xenoblade Chronicles 2, and explains why there won't be any second impressions; Sean returns to Nioh with some final thoughts on the Samurai action game; and Jonathan reviews Assassin's Creed Origins, a beautiful game that is perhaps too big for its own good.
Enjoy, and come back next week for our long-awaited Steven Moffat-era Doctor Who retrospective!
Time Chart:
Intro: 0:00:00 – 0:02:37
Stuff, including Thanksgiving stories, Dragon Ball Super and Doctor Who chat: 0:02:37 – 0:47:03
News, including Avengers trailer and more: 0:47:03 – 1:22:33
Xenoblade Chronicles 2 Impressions: 1:22:33 – 1:49:22
Nioh Final Thoughts: 1:49:22 – 1:58:32
Assassin's Creed Origins Review: 1:58:32 – 2:31:54
Stream The Weekly Stuff Podcast Episode #216


Download 'The Weekly Stuff' Episode #216 as an MP3
Subscribe to our YouTube Channel!
Subscribe for free to 'The Weekly Stuff' in iTunes!
Follow Jonathan Lack on Twitter!
Follow Sean Chapman on Twitter!
The Weekly Stuff with Jonathan Lack & Sean Chapman is a weekly audio podcast, and if you subscribe in iTunes, episodes will be delivered automatically and for free as soon as they are released. If you visit www.jonathanlack.com, we also have streaming and downloadable versions of new and archival episodes for your listening pleasure.