Discover more from The Weekly Stuff Wordcast
Writing about Movie, Games, TV & more!
The Weekly Stuff Podcast #221 – Holiday Stories, Doctor Who Christmas Special Review & More!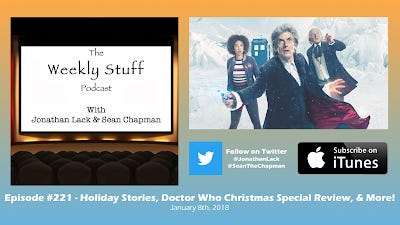 It's time for another episode of The Weekly Stuff Podcast with Jonathan Lack & Sean Chapman, a weekly audio show that explores the worlds of film, television, and video games. You can subscribe for free in iTunes by following this link.
For our first show back in the new year, we clear the deck with hours of holiday stories, reviews, and chats about games old and new we've been playing over the break. Sean talks about his Christmas at sea, with a mini-rant about a library on a cruise ship, while Jonathan reviews some Blu-rays he received as presents, including Twin Peaks: The Return and the new Doctor Who: Shada reconstruction. Sean talks about playing Assassin's Creed Origins and revisiting Star Wars Jedi Knight II, while Jonathan recounts his weird tradition of playing Papers Please every Christmas, and his journey diving back into the Batman: Arkham series. We cover a few quick pieces of news, and then for our main topic review this year's Doctor Who Christmas Special, "Twice Upon a Time," the last episode written by Steven Moffat and starring Peter Capaldi. It's the end of the wonderful era, and the start of something very exciting, and we have, as is our wont, a lot to say on the subject.
Enjoy!
Time Chart:
Intro: 0:00:00 – 0:03:00
Holiday Stories: 0:03:00 – 0:36:49
Holiday Gaming Stories: 0:36:49 – 1:27:00
News: 1:27:00 – 1:49:32
Doctor Who Christmas Special: 1:49:32 – 3:58:04
Stream The Weekly Stuff Podcast Episode #221


Download 'The Weekly Stuff' Episode #221 as an MP3
Subscribe to our YouTube Channel!
Subscribe for free to 'The Weekly Stuff' in iTunes!
Follow Jonathan Lack on Twitter!
Follow Sean Chapman on Twitter!
The Weekly Stuff with Jonathan Lack & Sean Chapman is a weekly audio podcast, and if you subscribe in iTunes, episodes will be delivered automatically and for free as soon as they are released. If you visit www.jonathanlack.com, we also have streaming and downloadable versions of new and archival episodes for your listening pleasure.