Discover more from The Weekly Stuff Wordcast
Writing about Movie, Games, TV & more!
The Weekly Stuff Podcast #228 – Mario Day, Nintendo Direct, Violence in Video Games & More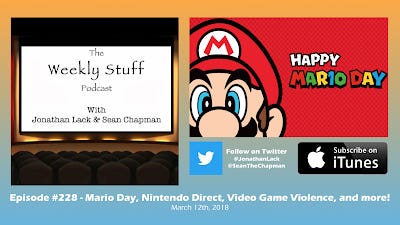 It's time for another episode of The Weekly Stuff Podcast with Jonathan Lack & Sean Chapman, a weekly audio show that explores the worlds of film, television, and video games. You can subscribe for free in iTunes by following this link.
It's a grab-bag style episode this week, as offer topics ranging from serious and topical to silly and only tangentially topical. Sean and Jonathan both talk about great recent indie games, including Into the Breach and Celeste, recap the Oscars and this week's Nintendo Direct news, and cover some various odds and ends. We then have a serious talk about the absurdity of 'violence in video games' still being blamed for school shootings some 20 years after Columbine, in reaction to the nonsensical White House meeting this week, and what a gross function this rhetoric serves in distracting from real solutions. And finally, in honor of March 10 – "Mar10 Day," or "Mario Day," as Nintendo has coined (pun intended) – Jonathan ranks, on the fly, every single Super Mario Bros game in one of our sillier and less substantive recent segments.
Enjoy!
Time Chart:
Intro: 0:03:05
Sean Talks Into the Breach: 0:03:05 – 0:09:18
Jonathan Talks Celeste and other stuff: 0:09:18 – 0:31:14
News, including Oscar reactions: 0:31:14 – 1:17:40
Nintendo Direct recap: 1:17:40 – 1:46:42
Violence in Video Games: 1:46:42 – 2:06:09
Mario Day 'Celebration': 2:06:09 – 2:41:03
Stream The Weekly Stuff Podcast Episode #228


Download 'The Weekly Stuff' Episode #228 as an MP3
Subscribe to our YouTube Channel!
Subscribe for free to 'The Weekly Stuff' in iTunes!
Follow Jonathan Lack on Twitter!
Follow Sean Chapman on Twitter!
The Weekly Stuff with Jonathan Lack & Sean Chapman is a weekly audio podcast, and if you subscribe in iTunes, episodes will be delivered automatically and for free as soon as they are released. If you visit www.jonathanlack.com, we also have streaming and downloadable versions of new and archival episodes for your listening pleasure.