Discover more from The Weekly Stuff Wordcast
Writing about Movie, Games, TV & more!
The Weekly Stuff Podcast #229 – Reviewing Alex Garland's "Annihilation"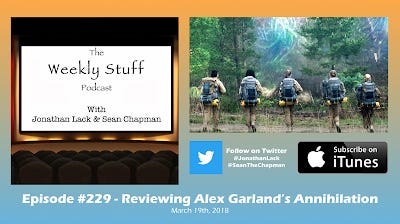 It's time for another episode of The Weekly Stuff Podcast with Jonathan Lack & Sean Chapman, a weekly audio show that explores the worlds of film, television, and video games. You can subscribe for free in iTunes by following this link.
A month after its US release and on the heels of its international debut on Netflix, we finally get around to talking about Alex Garland's Annihilation, a sci-fi journey that is gorgeously strange, evocative, frustrating, and undeniably fascinating to talk about. This is a prerecorded episode we saved for a rainy day, so we hope you'll excuse the belated nature of this discussion (we'll be back next week with a more up-to-date episode!). For now, Annihilation is, warts and all, more than worthy of the full Weekly Stuff discussion treatment, and we hope you'll enjoy the review.
Stream The Weekly Stuff Podcast Episode #229


Download 'The Weekly Stuff' Episode #229 as an MP3
Subscribe to our YouTube Channel!
Subscribe for free to 'The Weekly Stuff' in iTunes!
Follow Jonathan Lack on Twitter!
Follow Sean Chapman on Twitter!
The Weekly Stuff with Jonathan Lack & Sean Chapman is a weekly audio podcast, and if you subscribe in iTunes, episodes will be delivered automatically and for free as soon as they are released. If you visit www.jonathanlack.com, we also have streaming and downloadable versions of new and archival episodes for your listening pleasure.